The Talking Bull self-appointed Ground Guide Guru, Simon Wright, looks ahead to tomorrow's short trip to the New Bucks Head as Hereford take on high-flying AFC Telford United in the Vanarama National League North. The Bulls will be hoping to build on the encouraging display witnessed at Boston on Saturday.
AFC Telford United  
Back to the Bucks. Just 15 months after our team of Step 3 newcomers played out a fairly dull friendly at Telford, we return as League equals.
AFC were originally a supporter owned club when they re-founded in 2004, Initially, they were successful winning promotions and creating a buzz around the town. They started to struggle when they reached their resource limit… stop me if you've heard this story before?  Their solution last year was to revert to an owner-with-deep-pockets model. Little bit of frying pan and fire here, maybe. 2018-19 is their fourth year at Step 2.
Because of the friendly and the FA Cup match, Telford feel familiar opposition though in reality they aren't. Their modus operandi last season was to sign former Academy players hoping to develop them or bring in loan players en masse from the Dingles.  With a new manager and only 5 players retained from last season, its all change again.  The Bucks have Gordon Cowans son and Troy Deeney's brother in their ranks, but two other names caught my eye.  Shane Sutton resembles a large Yeti with hair everywhere, yet he's the sort of big bloke everybody wants in the line-up. He's a leader. The new manager made sure he got Sutton's name on a new contract first of all.
Telford also added Quilks to their line up – James McQuilckin. He's still only 29 with 4 years at Edgar Street behind him.  There is another Hereford connection in the shape of reserve goalkeeper Sheridan Martinez.  The new squad look battle-hardened, a little like Welling. They have 9 players over 25, all with a welter of previous clubs.
Telford remain unbeaten at home with 4 wins (including beating Chester and Brackley) and draws against Stockport and more recently against Chorley when they equalised in the 94th minute.  Only Chorley have a better home record. They're currently in 6th spot. Their poor away form is holding them back, including FA Cup defeat by Step 3 Warrington recently.  The manager recently complains his team are "lacking quality."  Udoh and Daniel-Smith are their first-choice strikers in a 4-4-2 formation.  Nigerian-born Udoh is the League's joint top scorer with 7 goals.
This years' management are Gavin Cowan assisted by Phil Trainer both former long-serving Telford players. Both are in their first managerial roles.  Cowan is Telford's ninth manager in five years. His squad train two evenings and on a Monday morning too.  Feels an awkward halfway house between semi pro and full time. Not easy to fit a lot of full time jobs around that arrangement.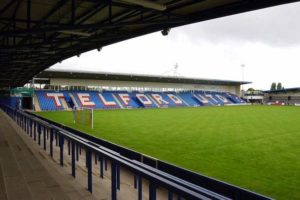 Bucks Head will be familiar enough. Smart modern ground which remains largely unfilled by locals. Average attendance is around 1,300 which in a town of 155,000 is rather poor.  Telford is bigger than places like Ipswich, Middlesbrough and Norwich. Unfortunately, Telford does have a Dingle infestation.
I assume we will be segregated (I say that because there was no segregation for Chorley). with use of a large covered terrace (Frank Nagington Stand) behind one goal.  Normally, visitors aren't allocated seats. I'm hoping our guys can have words in ears otherwise our more mature support will have to ask stewards individually to be seated.  Given that Telford have 2,200 seats in their main stand, this seems rather unnecessary. Expect to pay £13 for adults, a tenner for seniors , a fiver for 16-19 year olds and £1 for Under 16s.  Chester had 600 supporters behind them when they visited. Can we get close to that?
Car parking right outside the stadium is £3. No charge for blue badgers who will have no access problems here.  Otherwise its street parking.
The club bar just says No to visiting supporters.  We love you too, folks.  There is a bar in the club hotel behind the main stand but who feels comfortable, The best option is just a short walk away, the excellent Grade Two listed Cock Hotel in Holyhead Road. Hobson's Mild and Best Bitter are always on with guests often sourced from the Ludlow, Salopian and Holden's breweries. Real cider is also available + 80 different Belgian beers.  An overnighter is possible for anyone who can't bear to leave.   If the Cock is overflowing, the Swan Hotel across the road is a very acceptable alternative.  The Swan offer a much better food choice.

Getting There
By Train:  Can be done with change at Shrewsbury.  Last train back at 21.58 when the station is a mile distant will need a taxi on standby.  Better off with Reg
By Coach:  See Hereford Awaydays Facebook