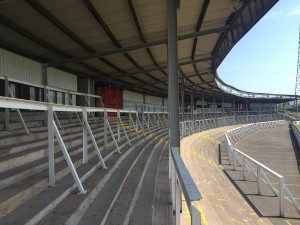 Hereford FC 'Eight Game' tickets are selling well via the clubs online service, and demand remains high in the club shop.
The tickets are making excellent presents for the festive period, with the eight game offer commencing from the home game versus Taunton on 14th January.
HFC have made the tickets available online up until 8th January, or directly from the Club Shop during their December opening times.
B & C Block tickets in the Merton Stand are very limited with less than 20 seats available in B Block and less than 30 in C Block.
Prices are as follows;
TERRACE
Adult £58
Concession £52
U18 £10
SEATS
Adult £65
Concession £60
U18 £10
The full list of games covered under the 8-game ticket are;
Taunton Town – 14th Jan
Tiverton Town – 28th Jan
Wimbourne Town – 11th Feb
Swindon Super Marine – 25th Feb
North Leigh – 18th Mar
Wantage Town – 1st Apr
Barnstaple – 15th Apr
Winchester – 22nd Apr
Eight game tickets purchased online can be collected from the Club Shop in the week, or from the Matchday Ticket Office on the day of a game, 48 hours after placing the order. |
No eight game tickets will be sold on a match day.