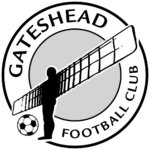 As expected, Gateshead were this afternoon thrown out of the National League and, even if a rescue package – and a new ground-share arrangement – is in situ over the summer, will be placed in the Northern Premier League for the 2019/20 season.
There had been some speculation that Gateshead were likely to be treated leniently, thereby allowing the Heed to participate in the National League North. However, that is understood not to be the case due to "multiple breaches" of the league's membership regulations.
Aldershot Town could be the chief beneficiary of Gateshead's demise, if they now avoid relegation to the National League South. This appears on the face of it to be the logical outcome, however, the National League could decide to operate with one less club in the top-tier of non-league football instead.  
The north-eastern based club faced a number of disciplinary hearings to investigate financial irregularities and concerns after the Heed were kicked out of their International Stadium home by the local council recently.
Gateshead have also been punished with a nine points deduction for their tally from last season and they have additionally received a £3,500 fine. Neither of which matter much.
However, the most severe punishment handed out by the league has seen the club suspended from the competition. The National League broke their silence on the situation on Friday afternoon with an official statement.
It read: "The National League can announce the outcome of disciplinary hearings concerning Gateshead Football Club.
"The club was charged with multiple breaches of the League's membership rules, and was subject to a review of its financial position and an assessment of its club licence.
"Gateshead FC has been found guilty of failing to obtain security of tenure over its ground, defaulting on football creditors and breaching League rules concerning financial reporting and permitted loans.
"The club has had 9 points deducted from its playing record for the 2018/19 season and been fined £3,500. The National League table has been amended accordingly.
"Furthermore, the club has been suspended from the competition and the League has refused the club a licence for the 2019/20 season."
The National League went on to announce that Gateshead have a right to appeal the punishment within five working days and any hearing will take place within 14 days.
The league also confirmed that they would reveal the 68 clubs that will make up their three divisions at their Annual General Meeting on 8th June.
That means that Gateshead owner Dr Ranjan Varghese has two weeks to clarify the ongoing saga surrounding the club's future after a bizarre week of events.
What impact the league's decision will have on Varghese's plans remains to be seen, but the short and long-term future of Gateshead is now in serious doubt.
Heed's fans may look more urgently at forming a "phoenix" club.