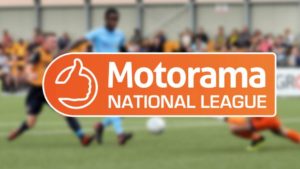 As part of the Bulls' learning curve in the Motorama National League North, evidence is clear that if Hereford want to be at the right end of the table, signing goal scorers who are top of their own table – the Goalscoring League – are key.
Being the very bottom level of the professional game, finding the net regularly in National League North is often a passport to full-time football at a higher level.
Younger scorers in particular don't usually hang around for a second season. Add in the usual barriers of players being promoted with their club, geography, personal circumstances, highest wages at this level and even transfer fees (virtually unheard of in other positions), grabbing a "name" if you don't have one is tricky, without a big bank balance.
When the dust settles and the cheque book returns to the biscuit tin, who will be left holding the big prize of an established Step 2 goalscorer?   
Right now, Altrincham and Hereford are looking mightily well-placed…
(Info correct as at 30 May 2019)
Name & Club
Goals

18-19

Location 19-20
Observations
Glen Taylor – Spennymoor
26
Spennymoor
Both Glen and his wife have well paid careers in nearby Durham and have no interest in relocating to turn pro. Signed a deal in January until 2021. Taylor joined in 2015 so is very settled.
Colby Bishop – Leamington
21
Leamington
Missed big chunks of last 2 seasons with ACL injury so was persuaded to re-sign with an understanding that he can leave with a full time offer
Jake Beesley – Bradford
21
Salford – currently
Is a Salford player on loan to Bradford last season. Salford being a Football League club with a big budget may offload him.
Dan "Nipa" Maguire – Blyth
20
Not yet clear
Plumber Dan may take his u bend skills elsewhere following the exodus of the manager and several players. But Blyth is "his" club. Dan is a long-term part of the club.
Dan Udoh – Telford
19
Not yet clear though Telford resigned to losing him.
Udoh is mid-20's, with 12 clubs behind him. Last season was the first time he scored regularly. He's not local so has no ties to the club. Telford are advanced in their squad building generally but Udoh hasn't re-signed.
Matt Warburton – Stockport
18
Northampton
Despite refusing to turn full time with Stockport, League Two football with Northampton was too good an offer to resist.
Kurt Willoughby – FC United
18
Club relegated but own position unclear
Willoughby has scored 20+ goals 3 years in a row and is a current England C striker so will get offers.
Josh Hancock – Altrincham
17
Altrincham
The attacking midfielder re-signed quickly. Has played over 100 games for the Reds and is settled.  Moved with the manager from Nantwich.
Joe Ironside – Kidderminster
17
Not yet clear
Signed in March 2017 for £25k, Harriers main striker is regularly linked with League clubs. Kiddy have offered terms and hope he will re-sign.
Reece Styche – Darlington then Alfreton
16
Hereford FC
Birmingham's best-known accountant is now a Bull.
Jordan Hulme – Altrincham
15
Altrincham
Quickly re-signed for Alty for his third season. He's part of a settled squad where the management are on contract for 3 seasons.
James Armson – Brackley
14
Brackley
Long-term club servant with demanding self-employed job. Decided he won't find a better part-time club locally
Josh Wilson – Chorley
14-
Promoted
Missed much of the season due to an ankle injury.
Rowan Liburd – Guiseley then Hereford
14
Hereford
When Guiseley needed to cut their wage bill, Hereford pounced.
John Johnston – Altrincham
14
Altrincham
Winger Johnston is part of settled side and followed manager from previous club.
Dion Charles -Southport
14
Southport
Charles had an average season at Southport but was previously a regular scorer.  Signed a 2.5 year contract in late 2018 until 2021.
Ashley Chambers – Kidderminster
14
Kidderminster
Also had 12 assists.  Kiddy is Ashley's 8th club in 12 years. He signed a two-year deal in June 2018.
Marcus Carver – Chorley
14
Promoted
Sean Reid- Blyth
13
Morpeth
Part of mass exodus from Blyth
 Here's what happened to the NLN top goal men of the 2017-18 season
Jason Gilchrist 26 goals is still with Southport but had a poor season being loaned out towards the end.
Jason Oswell 25 goals was transferred from Stockport to Wrexham
Aaron Williams 23 goals. He moved from Brackley to Harrogate
Jon Parkin 20 goals. He stayed at York as he completed his two-year deal. Being 37 and injury-prone, they were no offers. Now retired.
Ashley Chambers 20 goals, moved from Nuneaton to Kidderminster
Ashley Boyes 20 goals was transferred for a fee from Bradford to Spennymoor. Sat on the bench much of the season.
Reece Styche 20 goals for Darlington. Whatever happened to him?
Joe Ironside 19 goals remained with the Harriers. Being full-time and Kiddy reaching the play-offs kept him at Aggborough.
Glen Taylor 19 goals remains at Spennymoor.
Jack Redshaw 17 goals and promoted with Salford
James Arnson 17 goals and still with Brackley
Ashley Hemmings 16 goals was transferred from Boston to AFC Fylde
Oli Johnson scored 16 times for Bradford PA. He remained at the club with brackets through 18-19 but left in May 2019.
Dan Maguire 16 goals and stayed with Blyth
Marcus Dinanga 16 goals for Telford. Still with the Lilywhites and has re-signed for 19-20 though his goal scoring has diminished.
Matt Warburton netted 15 times for Stockport. Was promoted with the Hatters being moving to Northampton.
Only a quarter of these strikers definitely remain with their club they served during 17-18.  Have goals, will travel and do very nicely financially from doing so.
By Simon Wright