Nick Jones wants to share
"The Story of Kings Langley.. "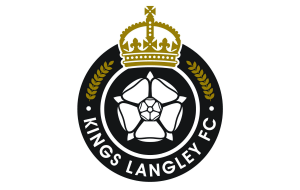 Nestling beneath the M25, half way between Watford and Hemel Hempstead is the venue of our first game of this much-anticipated new season, the quiet town of Kings Langley.
The town's main industry was paper manufacture but the 3 large mills that once towered over the Grand Union Canal have gone, making Kings Langley very much a dormitory town (although, if going by train you will walk past the Ovaltine factory on the way to the ground). Graham Taylor was a local resident and indeed passed away whilst residing in the town.
Rooted very much in Hornets and Spurs territory, large crowds are not a regular occurrence at Gaywood Park, named after Graham Gaywood, a local benefactor whose donation enabled "Kings" to purchase their then rented ground from a local farmer.
Their record attendance came in the final game of last season where Cirencester were the visitors with only the winner retaining their Step 3 status. 645 witnessed the tense spectacle. Their average gate is 165, second lowest in the Division ahead of Dunstable. Officially, their capacity is 1950 but who knows?  The "Kings" were formed back in 1886, this antiquity being a source of pride. They now run around 20 teams, from under 6's upwards and are conscious of the positive part they play in their community.
I visited the ground on a damp Thursday morning after contacting the extremely friendly club secretary, a gentleman called Derry Edgar (top name-top man!). His pride in his association with the club was palpable notably how the club committee have bonded together to make ground improvements to meet the clubs' recent elevation through the Leagues. There is room for further development.
The stadium lies in a dip to the East of the main road heading Northwards out of the town. Car parking is provided on the training pitch adjacent to the ground. Numerous signs prohibiting parking deter drivers from parking on a tempting grass verge opposite the ground. The entrance to the ground is raised a fair way above pitch level with an elevated area overlooking the pitch down one side. It reminded me of Larkhall (don't worry; you won't need a Class 5 climbing qualification here).
The ground is dominated by a 250-seater main stand apparently constructed mainly of scaffolding which the club members built themselves to gain entry into the League. There is a very shallow terrace at either side of the stand, although one side does appear to be rather overgrown. Directly opposite are two small covered terraces which were taken from Rushden and Diamonds' old ground. The dug outs are a fair distance apart from each other, situated at the end of each stand.  Directly behind one goal is another very small stand (only slightly bigger than the goal – both in width and height) with space for around 60 fans. The other end has no stand, just a fence which divides the pitch area from the training area behind. The pitch, whilst being unmarked on my visit, appeared to be of a very good standard which is what is to be expected as Watford Ladies use this ground for their home fixtures.
There are toilet blocks along the same side as the main stand.  Access to the pitch side is down a slope, while being fairly-steep, it looks do-able for those requiring wheelchair access. Disabled toilets are in the club house at the top of the slope.
Ticket prices are £11 with concessions priced at £7 and £2 for kids. Programmes cost £1 and they run a 50/50.
As for refreshments, there is a pleasant (though small) club house serving keg beer and lager; Kings are planning to provide a beer tent and a barbecue for our visit. Food is also available from a hatch at the front of the club house and there is a burger van on site too. They also run a merchandise stand selling badges etc.
Bulls fans looking for entertainment away from the stadium may enjoy the pleasant High Street with numerous independent shops, though lovers of Real Ale will not have their lives changed. Research came up with 5 pubs in the town, none of which appear earth shattering. The best bet is the 400-year-old freehouse Saracens Head at 47 High Street boasting ESB, London Pride, Tring Ridgeway plus a guest beer and lunchtime food.  Worth the 15-minute walk to the ground. A few doors up is M&Bs Rose & Crown which has a Gastropub air to it. Adnams is the welcome main beer here although they do carry guests.  Nearer to the ground is a Toby Carvery in Hempstead Road which I feel will be popular on the day!  It's cheap and cheerful with a lot of indifferent reviews.  Doom Bar is the resident beer plus two guests. Away from the town, towards Apsley is the Old Red Lion which is reported to be OK though pints of Wells Bombardier and IPA are a bit pricey.  It's Vinny Jones former local.
Gaywood Park is equidistant between 2 stations: Apsley to the north and Kings Langley to the south. It is about a 30 min walk from either although Kings Langley is the best option for those wishing to enjoy the town.  There is a taxi office next to the station and it will cost around £5 to get to the ground. It is surprisingly easy to get there from the Shire. A 9.39 departure with a change at New Street and Watford Junction gets into Kings Langley at 1 o'clock taking 3 hours 20 minutes.  There are several return connections available too. At the time of writing, there were some very attractive Advance fares available.  Exiles in the South East are well served with 2 trains an hour running from Euston taking around 25 minutes.
If travelling by car, the postcode is WD4 8FR though you'll hardly need it. After 122 miles to reach J20 of the M25, Kings Langley FC is but a mile away.  Take A4251 to Kings Langley. Go over first roundabout and through village, past the Toby Carvery on your left. Go past Coniston Road on left and immediately indicate and move into 'turn right lane' in middle of road. Turn RIGHT into Ground If the excitement of the Bulls' first game of the season is not enough for you (or the family) then you may wish to consider a visit to the nearby Harry Potter Studio, which is located just a couple of miles away in Leavesden, although quite frankly I would enjoy a Fred Potter world much more!
To summarise, we certainly have visited bigger grounds over the last couple of seasons and while Gaywood Park is slightly rough around the edges, it does have a certain charisma. Kings Langley FC come across as a very honest, decent club who enjoy playing at a higher level than they ever anticipated.  They will make us extremely welcome and I feel it should be a good day all round.