A big welcome to our new player Reece Styche, even if he does follow Aston Villa…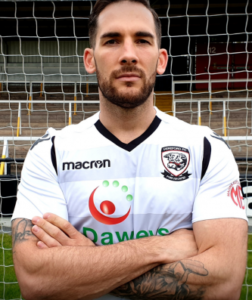 Styche is an easy person to check upon, with his 18 previous clubs, and his activity on Twitter. Throughout last season, I probably mentioned Styche's name more than any opposition player, says Baggies fan and Talking Bull co-editor Simon Wright.
Some transfers just have to happen and it was ironic that he was only on the bench for both of the Alfreton games against Hereford, making only a brief late cameo at Edgar Street as Heath's booters bashed the ball from end to end.
I harp on about Geography regularly. The players at most step 2 clubs are almost literally out of reach. But Reece is Birmingham-based, OK Sutton Coldfield and a man who was used to commuting to Darlington could easily schlep to the Street.
His moving to Alfreton for £60,000 early season was a strange one. Let's say the Reds aren't going anywhere in a hurry. There were compensations. For the Villa lover, there was less travel and a relaxed grin for Darlo's bank manager.
The move was not successful with the Reds most expensive bean-counter regularly left out of the starting line-up and everyone wanted a way out.
The most astonishing aspect of the transfer is that Hereford paid a fee. As far as I know (and I am regularly told I know nothing), money changes hands in Step Two very rarely indeed. Our club have made a big, bold move.
Look at the list below of NLN top goalscorers 18-19. Some have already been promoted, relegated or transferred to higher level clubs, and of the rest, Altrincham and Hereford have two contracted for next season.
Better times ahead?
Glen Taylor                         Spennymoor      26
Colby Bishop                      Leamington        21
Jake Beesley                      Bradford              20
Josh Hancock                     Altrincham          19
Daniel Udoh                       AFC Telford         19
Daniel Maguire                 Blyth Spartans     19
Matt Warburton               Stockport             18
Kurt Willougby                  FC United             18
Joe Ironside                        Kiddy, York          17
Reece Styche                     Darlo, Alfreton    16
Jordan Hulme                    Altrincham           16
Josh Wilson                         Chorley                15
Rowan Liburd                     Guiseley/Bulls     14
By Simon Wright
Images: Hereford FC