Over the festive season, we face local rivals who are opposites in many ways. We make up for not having played Kidderminster Harriers yet by doing battle twice in the space of a few days.
Kidderminster Harriers, rather like Bob Crachit of Christmas legend, are living in hard times. Their previous benefactor Colin Gordon became weary of shovelling money into a club which couldn't progress or even break even. Bah Humbug. Gordon's master plan was to maintain a full-time squad with an OTT playing budget. Outgoings to be balanced against income from educating apprenticeships and developing and selling young players. Interesting idea but it didn't work. Gordon regularly hired and fired managers but every year there was another financial shortfall for him to pick up. With their playing fortunes steadily going backwards, the owner basically sacked himself.. though immediately re-hired himself as a consultant to the new owners. If the name Colin Gordon sounds familiar to older supporters, that's because he spent 6 games on loan to Hereford United way back in 1990. Is he our only former player to go on to own a club?

The new Kiddy owners are a consortium led by local man Richard Bertram Lane. He owns the Halesowen-based technology firm EBC Group and said: "I grew up less than a mile from Aggborough, and started watching the club when I was two with my father." His father was a former director. Quite who else is involved isn't yet clear, which is a concern after two months. Seven Kiddy directors have resigned this year. Share ownership remains horribly complex at Harriers with the list of minor shareholders running to 14 pages, including 46 who are deceased.
Our other visitors Leamington live within their means with no changes in the dug-out or the Boardroom for a decade. Not many changes in the squad either with a back four which probably know each other better than they do their wives, having played together so long. The Brakes do change their strikers or rather their strikers change them. If you can operate successfully within Leamington's route one style for a few months, then bigger clubs will come knocking. That doesn't help long-term club development. If you're a Leam follower, then your success and enjoyment factors need different criteria. More about enjoying the company of fellow supporters and a rapport with their antique defenders. When we visited Warwickshire in October, there was no shortage of friendly folk around. And there's nothing wrong with that. There aren't too many clubs who can be promoted from our League.. and stay promoted. Hereford are among a minority who genuinely can.
In those upward mobility terms, there are many clubs worse off than the Bulls though some of our impatient followers really don't want to hear that. Leamington have hit their natural ceiling. Bradford with Brackets, Curzon, Blyth, Alfreton, Guiseley and others aren't going anywhere soon. (Other than down?) And arguably not Kiddy either. Their squad looks cheap and young. I'm all in favour of growing your own talent but there does need to be a balance. Harriers have only 10 players aged over 21 and none at all older than 29. The first team pretty much picks itself and one of those is on loan with a January recall. This despite Harriers having 4 internationals who respectively play for England, Bermuda x 2 and Zimbabwe. The England player naturally is the loanee Rhys Williams from Liverpool. In recent years, Skipper Cliff Moyo was called up by England, Zimbabwe and Matabeleland. I had to look up Matabeleland. This is apparently part of Zimbabwe which aspires towards independence so its rather like being called up for Cornwall. All rather pointless as FIFA don't recognise them.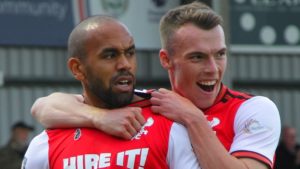 The Kiddy goal scorer is Ashley Chambers, one of their few senior players left. Has 11 goals by mid-December.   Also, look out for striker Brandon Diau. You won't miss him if he is on the pitch as he is 6 foot six. German-born, 28, genuine European-wide journeyman who received knock after knock back for being too tall. Clearly, he has yet to meet Tony Pulis. One more vaguely familiar name is midfielder Ed Williams, formerly of Gloucester. He scored 10 goals in 14 games early last season making headlines along the way. Some of our more excitable supporters thought we should sign him immediately though they weren't able to explain why a successful full-timer would want to join a struggling part-time club. Since then, he's hardly found the net.
Harriers manager was John Pemberton until a few weeks ago. Just like his predecessor, he had no previous non-league experience and didn't last a season. The latest temporary incumbent is former Baggie coach and manager Jimmy Shan. This feels a fairly one-sided arrangement. Harriers get a local man who is cheap, a brilliant coach of young players and access to WBA's Academy. For Shan, it's a desperation move. He walked from Albion in the summer, unhappy with the role he was offered under new management, but there were no sensible job offers for him so ended up taking anything to get back into the game. Other than a few games with Paget two decades ago, he knows nothing about Non-League.
Kidderminster are having a grim season. Their home record is poor with only two home wins. In the Cups, they lost to Stafford Rangers in the FA Cup, who are bottom of their Step 3 League without a win until then. Harriers fared no better in the Trophy, well beaten 3-0 by Curzon. That was the Nash's biggest home win of the season. As a consequence, recent home gates are poor – between 1,000 and 1,200.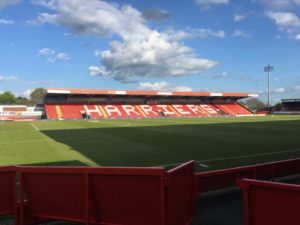 We visit our Worcestershire neighbours on Boxing Day, the day when even floating supporters are keen to get out of the house and get to a game. Theirs is a familiar stadium and so I don't need to describe it. After all, "Aggborough Stadium is the finest football arena in the local area" according to the Kiddy website.
So is ours. So is Kington's and Presteigne's but they don't feel the need to boast about it.
Normally, all away supporters are plonked into their East Stand seats and pay terrace prices. Because of our numbers, we have to pay more.
Seat prices for us are £17 adults, £12 for concessions (60+) and £5 for U16's. Standing up is £15 adults, £9 concessions including students and £1 for U16s.
Parking is £5 behind the away goal and £3 behind the home end.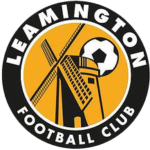 Visiting us on December 28 are Leamington FC, who are 7 games unbeaten as of mid-Dec, including a win and a draw with Spennymoor. That sounds a tad alarming. But on the other hand, they've never beaten any Edgar Street based club. We've already defeated them once this season 2-0 in October. At the time, this felt like an impressive victory, But with hindsight, this was just one of 6 straight defeats for the Warwickshire club so maybe said more about their shortcomings than our strengths.
Like ourselves, they've dived into the loan market to prop up their ailing and creaking squad, bringing in temporary talent from Coventry. Arguably with a better outcome than ours. Leamington's 8 senior players have collectively well over 1100 Brakes games between them. Central defender James Mace has played more often for Leamington than the entire Harriers squad have played for their club. The total would be higher had not Captain Jamie Hood with 300 games behind him, left for Nuneaton in October. Nuneaton are throwing a lot of dosh around and with Hood living in Nuneaton, he was an obvious target. Leam bought in central defender Josh Martin from Hungerford to replace Hood.
They are a direct team, in other words hoof ball merchants, though strangely they don't have any large forwards. They play for set-pieces and penalties. Check through their games this term and there is a long list of sendings off and penalties, for both sides. Top scorer Josh March has scored 8 penalties and missed several others. So expect some dramatic moments.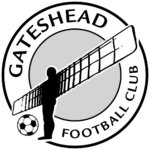 Three days after hosting Kidderminster Harriers, the Bulls have a horribly long and horribly unappealing visit to Gatehead FC on January 4. Talking Bull's Sage of the South-West Keith Hall has stoutly maintained all season that this game will be postponed so let's see whether he is right. The Heed have had 6 postponements already- admittedly mainly to Cup commitments.
Gateshead is our second longest away trip – all 526 miles of it – and as I have previously highlighted, the Heed play at an athletics stadium with 12,000 dusty seats. The entire attendance – usually around 950 – sit in one stand, separated from the pitch by a full-size running track. The pitch gets a lot of use as its shared with Gatehead Thunder (rugby League), Gateshead Senators (American football) and the Gateshead Miners (Aussie Rules).
Rookie player manager Mike Williamson has done well to assemble a competitive virtually new squad in July after the club was saved from closure. They are full-time which helps and virtually all the players were born within 30 miles of Gateshead which makes a big difference to morale. They have a decent home record with only two defeats. At time of recording, they've scored fewer goals than Hereford FC which takes some doing. The Geordie boys normally only play with one striker – young loanee Kayode who scored one of his half dozen this term at Edgar Street in the Heed's unlucky 2-1 defeat. Their kitman is their second top scorer. The Heed's strength is defending, because the player manager and player assistant manager are both central defenders.
The prospect of two low scoring mid-table sides in action isn't high on appeal and we anticipate a very small following.
Reg is running a minibus at £40 per head. Those brave souls will pay £15 adults or £8 if over 60 to gain admission.
Enjoy!
Simon Wright