Hereford had a great opportunity to move into the play-off positions against Alfreton at Edgar Street – but blew it. So, having made 6 changes ahead of Tuesday's match, Russell Slade will have to re-consider his options depending on injuries and international call-ups.
Altrincham have slipped after being definite promotion candidates last season, but always endeavour to play open and attractive football so another fascinating battle is on the cards. Here is your Talking Bull match preview and away guide.

The Cheshire club are a recent example of the old maxim about taking your chances when they come along. Because like a Herefordshire bus, you never know how long to wait before the next one shows up. Alty were in the Play-Offs last season, didn't get through and now are just mid-table hopefuls. Of course, easier said than done when there is only one prize for a pack of 6 well-matched clubs to fight over. In theory, reaching the Play-Offs ought to be a springboard for future success. Not so in our League – yet anyway. Think of the 5 clubs who didn't succeed last time. Blyth and Bradford with Brackets are in the bottom four. Spennymoor were even slower starters than in 18-19 though are now the form team, Alty are struggling and even Brackley resemble a car with a misfiring engine.
Altrincham have retained their key players. They run a tight ship financially, don't have overnight stays and do make a profit. Like many other Non-League sides, they ask for supporters to join summer working parties to spruce the ground up. Unlike many others, some of their players also volunteered to help.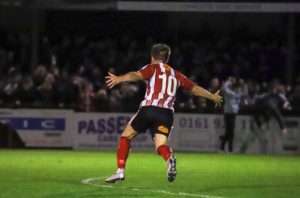 So with all those positive aspects, the Robins dangerously lower League position isn't easy to explain, even taking their games in hand into account.   Our host club do subscribe to the National North League A and J rule. They possibly invented the new rule that other than Glen Taylor who is too big to argue with, only players whose first name start with the letter A or letter J are allowed to score goals regularly. Last season, their J men, Jordan Hulme, Josh Hancock and John Johnstone scored over 40 goals between them. By the end of October their combined total was 7. Alty probably didn't get the new rule revision that J was dropped and the new rule is only players whose name starts with A can score double figure goals.
Going 8 weeks without a home League game haven't helped their placing (or their finances). We're their first League opposition at Moss Lane since September 7th when they slaughtered Leamington  5-0. Their home record is solid when they are scrapping for points rather than Cup glory. The only side to beat them is York City.

Away from home is a different story with just 3 single points stowed on their coach but that information is of limited value when we are the travelling club.

However, we do visit the Cheshire club after they have 3 straight tough road games in November at Kings Lynn, York in FA Cup Round One and then Kettering on the Tuesday night. Those two games close together might give us an edge, fitness-wise.
Last season, we had a pair of drawers. One all home and away and not too much to recall about either encounter. At Edgar Street, Hereford thought they had a 1-0 win only for the visitors to pinch an injury-time equaliser.
The Robins manager is Phil Parkinson, who made his name at Nantwich, both as a player then as their Gaffer. By day, he's a Sports Science Lecturer. This may explain why at Altrincham, he's supported by a Sports therapist, data analyst and sports scientist. That's 3 different people.

Altrincham were one of Non-League's best-known clubs, perhaps "the" club of the late 1970s and early 80's and with a history dating back to a Sunday school team in 1891. 

There is a bold claim on their website that "Altrincham FC is the most successful non-league club in the country."   That's based on being "twice winners of the FA Trophy, twice winners of the National League and are the record FA Cup Giantkillers, with 17 wins over League clubs in the competition, including a run to the 4th round in 1985/86." Alty fell just one vote short of being elected into the Football League after finishing Champions. Even more galling when you add in that one club rep arrived too late to vote while another bizarrely was deemed to be in the wrong part of the room and could not vote. Both clubs had promised their vote to Altrincham.
The nearly 110- year-old Moss Lane is a proper ground, a legacy of their previous success, though is far too large for their needs. Altrincham FC's ground is situated on the corner of Moss Lane and Golf Road, about a ten-minute walk from Altrincham town centre.
For the last 6 years, sponsors cash means the Robins officially play at the J. Davidson Stadium. Expect segregation and if so our standing support will be based in the uncovered Hale End terrace.  
Catering is a burger van and the toilets are notoriously old-school porta-cabins behind the goal.  With capacity for 1,000 on those 15 or so concrete steps, there will be ample space to shout to your neighbour. Seating is in the unsegregated Carole Nash Stand. Classic design here with pillars and floodlight towers in the way plus limited legroom.  Expect to pay Adults £14, Over 65's £11, Under 17's £5 and Under 12's £1. Do be aware that Altrincham admit "we have seen a very small minority of "fans" (10-15) aged 16-20 who have come only intent on goading or causing trouble with opposition fans. This stretches much further than the usual "banter."
Mainly street parking here apart from the Aecom business unit at 175 Moss Lane (WA15 8FH) which offers free matchday parking.
Adjacent to the ground is the not-for-profit Community Sports Hall, with a bar. It also serves food (pies, chips etc..), has Sky Sports and welcomes away fans only if not segregated.  For supporters who can manage a ten-minute walk into the town centre, the Hereford Hophead has singled out Costello's Bar in Goose Green as the place for quality beer.  This is the brewery tap for the Dunham Massey brewery with a minimum of 7 of their real ale range on hand pump.  And yes, there is a 'Spoons, the Unicorn in Ashley Road but be warned the reviews are mixed.

Getting There
By Road: 262 miles (WA15 8FH) M6 to J19, then A556 and M56 heading towards Manchester Airport. Leave M56 at J6 and take A538 towards Hale Barns/Altrincham. After two miles after traffic lights take third right into Westminster Road. Carry straight on down Westminster Road, which becomes Bancroft Road and then Moss Lane. Ground on the right.
By Train:  Do-able. Direct trains to Manchester Piccadilly from the Shire or London then either a local train (28 minutes duration) or use the Metrolink if quicker. Alty station is a 15-20 minute walk to the ground.
By Reg: Visit the Hereford Awaydays Facebook group to book. Full size coach will leave Radfords at 9.00am seat price is £20 and for children £10. Reg has a family pub organised near the ground.