Here at Talking Bull we look ahead to the Bulls game against Spennymoor Town at Edgar Street tomorrow. Hereford have now taken just a single point from their last five matches, but the confidence boosting victory over Truro City in the FA Cup could prove to be the win the Bulls needed to re-ignite their Vanarama League North campaign. 
Can the Bulls bounce back? Simon Wright casts his eye over one of the divisions smallest clubs.
Spennymoor FC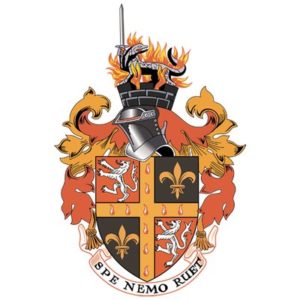 Spennymoor is a small town of 20,000 people, 7 miles South of Durham.  It was old mining community which now relies heavily on the manufacturing sector. The football club is the biggest sporting club by far within the community. They did once have a cricket ground they were most proud of but a V1 flying bomb destroyed it.
Spenny is one heck of a long way from the Shire.  490 miles return to be precise. They are second only to Blyth in the long-distance stakes.   Expect the leg-weary visitors to wear their change kit of all red with yellow piping.
Fair to say the Durham club average about 800 people through their doors. Their early figures in 2018-19 are a bit distorted as they played Darlo in the first week.
Spennymoor are a Phoenix club, founded in 2005 after a merger between Step 4 Spennymoor United and Step 7 Evenwood United.  Spennymoor United went bump mid-season 18 months after their clubhouse burnt down. Evenwood wanted to take over Spenny's ground, so after discussions, Evenwood agreed to change their name to Spennymoor Town and play at Spenny's ground in their own Step 7 League.
The new Moors thus started in the lower bowels of the Northern League and have enjoyed near continuous success since.  Along the way, they were Champions of the Northern League 4 years out of 5, refusing to apply for promotion until they were financially sound. In the year they finished a mere second behind Darlington, they still racked up over 100 points. Their manager kept his job despite this setback and one year later, they won both the title and the FA Vase.
Jason Ainsley is their manager who is now in his 12th season, the longest serving manager in Step 2.  He's coming up to 500 games in charge with a 64% win ratio and is still only 48.  As a player, he had 5 spells with Spenny in a career which involved a lot of North-East clubs. Along the way, he also played in Western Australia, for a couple of clubs who pop up on the summer pools.  His full-time job is Head of Year at a nearby Community College. He is married with 3 daughters. Clearly, Jason is never short of things to do.
Spenny are now beginning their second-ever season in Step 2. Last year, they were 5 minutes short on the last day from making the play-offs.  A late goal elsewhere by Bradford knocked them down to 8th.  Just 4 months earlier, the club completed work to enable them to complete in the Step 2 play-offs. (500 seats, split between two stands are required).
Spenny currently have a 22 man first team squad, including 7 new signings this summer. These include: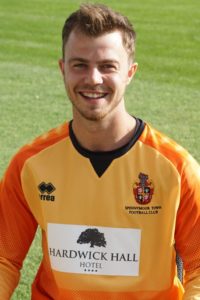 In goal Matthew Gould, the former Stourbridge goalkeeper. He is son of former Bulls keeper Jonathan and Grandson of Bobby Gould.  Ex United manager of course and the man who selected Ryan Green for Wales aged 17.  Geographically, that is a big move from the Black Country. Maybe he did it to get away from his Grandad who was a regular at Stourbridge Fc?  Teapot Gould was at the Ashton game as a scout. I presume it was for Spenny.  He won't learn much from that!  Anyway, having endured Gould Senior at the Hawthorns, I need to move on quickly before I resort to profanities.
Another name to look out for is 24-year-old midfielder Rob Ramshaw.  Scored the Play-Off winner for Spenny two seasons ago, capped for England C and has over 100 Step One games behind him for Gateshead. Along the way, he also picked up a suspended prison sentence.
Striker Adam Boyes is ex Bradford.  We've mentioned him before and his 24-goal tally last season. I've since had confirmation that Boyes was on a remarkable wage at Bradford for Step 2 but moved anyway to Spenny. Paying large salaries isn't always the answer. Boyes has featured in all the first 10 League games, scoring 3 times albeit as an impact sub.
Spenny do maintain a steady selection, with 8 of their squad appearing in every game.  The club are rumoured to have spent heavily bringing in new talent this summer and the assumption is that backing is provided by Brad Groves, the wealthy owner. He took over the club way back in 2000 and has overseen a lot of changes at Moors.
Results on the road so far are impressive.  Spenny have beaten Leamington and Boston drawn at Chester and Southport and lost narrowly at Bradford. Overall, of course they are in a Play-Off slot, having beaten Nuneaton in their last game.  I would have added "well, everybody beats Nuneaton" but sadly that isn't true.  Our visitors are clearly well organised and most ambitious. Our side need to be ready for that.
Checking around various forums, seems that Spenny supporters are a very jolly bunch, rather like Blyth.  However, no mention of toasters.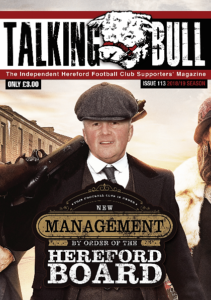 There will be a new Talking Bull out for this game.  The first issue created so much interest that Keith and I have brought forward Issue 113 by five weeks to meet demand.  There will be our take on recent events, and lots of fun pieces too such as 'How to win the 50/50'.  We have it nailed in a step by step guide. There is an excellent 'Superstitions in B Block' article by Jo Clement.  You'll look at B Blockers in a different light after you've read it.  What is pleasing we have four more debutant writers with a wide range of ages.
Please do look out for the sales team pre-Spenny!
Or why not order direct via our on-line store, or take out an 8-issue subscription ensuring you will receive a pristine copy delivered straight to your door in advance of match-day sales.
When they're gone…they're gone!