It is likely that last night's victory at Bootham Crescent against York City, on the back of another away win at Blyth Spartans and a draw at Guiseley in recent weeks, will encourage more Hereford supporters to make the short trip to Leamington on Saturday.
Hereford have now reached 16th place in the table, and are now within touching distance of the divisional top ten given a gap of only seven points between the Bulls and Kidderminster Harriers  – something unthinkable a few weeks ago.
It will be interesting to see if the match now attracts the Brakes highest gate of the season, which currently stands at 975 against Chester in November, especially given Leamington average home attendance is around the 650 mark. Hereford have been advised the ground itself will be segregated, although this should not present any genuine issues.
Here is your Talking Bull Away Guide to Leamington – Enjoy!
LEAMINGTON FC
So, here you go. Some say it's the last chance not to have to travel too far to support the Bulls in an Away Game this season.  The Brakes are our third most local opponents geographically, and this is our first ever visit to their ground. Hopefully our support will be larger than for the recent Northern marathons, and as a result of recent performances on the pitch, we will be able to maintain a positive outlook.
Leamington say; With a large attendance anticipated for Saturday's visit of former Football League club Hereford FC on their first ever visit to the club, we are asking supporters of both sides to help with travel and parking by making use of the Match day Bus Service, or by car sharing, or using the Brakes min-bus service. Parking is available for approximately 400 vehicles, but there is no alternative 'on street parking'. Fans are advised to arrive early.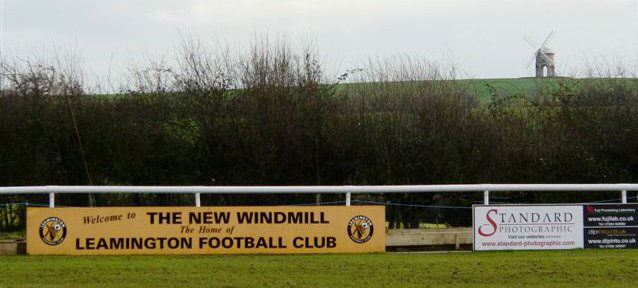 Leamington, like ourselves, are a Phoenix club, albeit with a 12-year gap between their folding in 1988 and starting again in 2000 in Midland Combination Division 2. Arguably not like us, they've probably reached their ceiling in Step 2.  In past years, they've not been able to retain National League North status for very long.  Their support is passionate, but there simply isn't enough of them.   In a season of struggle in 2017-18, Leamington averaged 650, With their team mid-table this term, gates are a little higher at 680 though that is only a handful higher than doomed Warwickshire neighbours Nuneaton.  Neither does the Brakes have a wealthy owner. Leamington Fc is owned by 432 shareholders and it's a very even split. Only one shareholder owns more than 10% of the shares and they only hold 13%.
The Phillips 66 Community Stadium was a new ground for a reformed club. Floodlights, seats and the PA system were taken from the Manor Ground in Oxford. Similar to Brackley and Guiseley, this ground has a small sub 3,000 capacity, limited cover, limited seats and a lot of open areas.  One covered terrace behind the goal and a 300-seater stand along one touchline is about the limit of the spectator provision.  Rest of the ground is open terracing or just flat areas.  Sounds modest but ample for their needs for now. The Brakes have plans and local authority permission for a new 5,000 capacity community stadium with a 3g pitch to the South of the town. Current thinking has a June 2022 opening.
Segregation will be in place for our visit. If so, we can expect seating at the end of the main stand, whilst Bulls fans will be encouraged to stand together on the North Bank open terrace. Entry will be through the turnstiles at a cost of: Adults £12, Over 60's £8, Students (with relevant ID) £6, Under 16's £3 and Under 12's Free.
Leamington FC fans will have access to the main stand, Harbury Lane End terracing and hard standing on the 'dug out' side of the ground plus the clubhouse.  Admission will be via the turnstiles at the clubhouse end of ground.

Entry to the ground can be gained from 1.00pm onwards.  Pitch-side catering units, bar and toilet facilities will be available at both ends of the ground.  ALCOHOL will only be served in plastic containers.

Access for supporters with a disability will be via entrance next to main turnstiles at the clubhouse end of the ground.

There will be a temporary full bar facility, catering and toilets at the segregated end of the ground.  Admission can be gained from 1pm onwards.  Entry will be upon cash payment.  Please note we do not have a credit facility.

Clubhouse Bar Will Be Open To All Fans At Conclusion Of The Match.  BT Sport available.
There is a brilliant programme shop inside the ground which also has huge stocks of badges and football books. It's on a par with Bradford and Hitchin for anyone who made those trips, just an overwhelming selection of football "stuff."  I used to be quite pally with Paul, one of the guys who runs it, as he used to run WBA's club shop.
Excluding the Birmingham Senior Cup, the Brakes are not in good form. Only one win in their last 12 matches in all competitions, although that did arise in their last match at the New Windmill Ground; 3-0 against play-off contenders Altrincham.  At home, their record is modest with 4 wins, 6 draws and 4 defeats.  Like half the Division, they've picked up more points away than at home.
The earlier League game at Edgar Street was the first ever between the clubs. Leamington dominated the first half, us the second and we took all the points with a spectacular late winner from Jamie Bird.   So many of the principle performers from that night have moved on. Bird of course, and also Leamington's excellent striker Matt Stenson. Solihull Moors made him a full-time offer he couldn't refuse just weeks after his impressive display at the Street. Since then, he's played parts of 15 games for the Moors (only once did he play the full 90 minutes) and scored only one goal.  Sounds like he needs a move.
Still within the Leamington squad is one James Bowen, although he isn't first choice left back. "He needs to improve in a few defensive areas" explained his manager recently.  And thinking of the manager, Paul Holleran is now in his tenth season. That's well over 500 games in charge. Does seem to be a very low-profile guy so hard to add much other than he was formerly manager of both Rushall and Halesowen Town.
The stadium is off the narrow Harbury Lane, two or three miles distant from central Leamington. A shame as Leam is a lovely town, loaded with small independent shops and real ale bars.  During my last visit there, I sampled black ice cream, where the active ingredient is charcoal.  The effect on my digestion system over the next two days was interesting.   Out of town grounds need to get their car parking and refreshments spot on.  I can happily report from my previous solitary visit that Leamington stewards manage parking very well and are skilled at getting vehicles out quickly and efficiently.  Room for 350 vehicles and no charge.  Be aware there isn't normally any Plan B for parking as the lane is too narrow.
The Brakes Bar is inside the ground and thus will only be open to visitors if segregation does not apply. The bar is small but does offer a real ale produced by the Church Farm Brewery.  There are no alternatives within 3 miles or any footpath to get there.  The Hereford Hophead, who can sniff out quality beer a mile away suggests for anyone driving, avoid the crowded town centres and seek village refreshment. The Leopard Inn at Bishops Itchington is the nearest (3 miles away) though this is primarily an expensive food pub.  Slightly further away is the excellent Crown Inn, at Crown Street in Harbury village.  You'll find Purity, Jennings two guest beers and excellent food.  I have visited this place for a retirement bash for Albion's best-known supporter Dean Walton. This is Dean's local so apologises for the extra noise Dean.
Getting There
By Road: 142 miles (CV33 9RN). Leave M40 at J13 and follow A452 towards Leamington.  You will cross a small roundabout and at the next take 2nd exit (signposted Leamington A452/Heathcote Industrial Estate). Take 4th exit at next roundabout (sp Bishop's Tachbrook/Harbury). Straight across the traffic lights proceeding towards Harbury. After about another mile and a half, ground on your left.
By Rail: Straightforward with a change and wait at Birmingham New Street.  The train station is three miles from the ground. The Brakes may be running buses, check their website for details. Otherwise grab a taxi.
By Coach:  Visit Hereford Awaydays Facebook page