Never let it be said that Talking Bull personnel don't do their homework. We've had people at their last two games.  Our man in the North Ian Sandford took in Spennymoor's home game with Southport while alongside Frank Williams I spied on the Moors away fixture at Kidderminster Harriers.  I reckon we're better informed than Marc Richards! That said, knowing which one of his opponents has the most spectacular beard may not help Marc's tactical plan.   
Simon Wright looks ahead to the Bulls mammoth trip to play-off contenders Spennymoor next Saturday.
SPENNYMOOR TOWN 
Our final near-500 miles marathon jaunt takes us close to the home of the Pink Panther at the Brewery Field.  Spennymoor are an ambitious, well-funded club. They have a manager in his twelfth season and the League's top scorer.  More of them later.  We gallant travellers will be completely unconcerned that the Moors had to postpone two recent home games due to a soggy bottom.  They have a rearranged home game this Tuesday so everything will be fine for us. Won't it?
Admission here is £14 for adults (just £9 for over 60's) with under 16's priced at £4.  That's a flat price for standing or the 700 odd seats which are first come first served. Choose from the Main Stand on the halfway line or the Motif8 stand behind one goal.  The rest of the ground is uncovered terraces.  Plans are advanced to add 2,000 more places to the Brewery Field to ensure eligibility for the National League. This despite average attendances of 800.With the club's existence being questioned by the Flat Earth society, segregation is usually only necessary when North-East rivals visit.  But if Spenny do want to separate us, we will be confined to a low open terrace behind the goal plus a few seats.
This fixture is an opportunity for our mature supporters to exclaim "I remember his Grandad playing" and then have dark thoughts about "getting on a bit.."  For Spenny have Matt Gould in goal, son of Jonathan and Grandson of Bobby Teapot.  Up to end of last season, Gould Mark 3 played for Stourbridge. After his Dad got a job working for a dinosaur at Middlesboring FC , Matt decided to relocate.  Handily, Spennymoor signed him.  It's actually becoming quite unusual for clubs in our League to have a contracted keeper. More and more are using loans from Academies.
Glen Taylor with 21 goals is the Division's top goalscorer. He also managed 20+ in his two previous seasons.  Spenny have him under contract until 2021.  28-year-old Taylor has had offers to turn pro – as regular scorers at this level always do- but he didn't want to give up his teaching career and relocate.  According to our man in the North, Taylor is rumoured to be on £900 per week.  Taylor is the team's central striker, supported by two wide men, rather like our own formation,
Also keep an eye on midfielder Mark Anderson with 14 League or Cup goals.  Like Taylor, Anderson is in his third season with the Moors.  The midfielder played pro with that household name the Carolina Railhawks.
The home side's biggest bloke is Captain Jamie Curtis. The central defender is officially 6 foot 3 but looks taller. Must be his red hair..   Curtis is nearly 37 and "been there, done it." He joined Moors 3 years ago after just the 596 games for Gateshead FC.
Club manager is Jason Ainsley.  He is 47, married with 3 daughters and is a pastoral head of year at a college in South Shields.  Ainsley is in his 12th year with the club. As a player, he had 12 clubs including Spenny for whom he had 5 different spells. Clearly, he couldn't keep away for long.  Spennymoor are a reformed club and Ainsley's been their only manager in their new guise.  He doesn't have a contract and doesn't want one.   After 5 games this season, Spenny only had 3 points so their improvement since is spectacular.  At home, they've only lost to Telford and Stockport in the League. Four other clubs took a point home with Spenny winning all the rest. Biggest home win was an 8-2 slaughter of Halesowen Town in the Trophy.
Spenny are third highest scorers in our League with the third best defence so its appropriate they are in third spot. Yet they've hit a bad patch, picking up just one point in the 3 games before they played Bradford PA and automatic promotion looks beyond them. They looked pretty ordinary in their defeat at Kiddy, though admittedly having bad wind was a major distraction.   Spenny have games in hand but have had to postpone two home fixtures because of a waterlogged pitch, which of course doesn't concern us at all. Currently the team only train twice a week though that will change if they are promoted.
Fortunately, Moors have a benefactor to help with promotion costs. Chief Executive Brad Groves is a big name in the North-East.  Groves has led various FTSE100 companies and has invested heavily in the Moors.  Logically, he will be funding the extensive ground improvements.  He was a talented player as a teenager and was offered a trial by Aston Villa. But he suffered a serious injury and gave up the game.  Seems a drastic way to avoid Villa. Personally, I'd just say a few words which mean No.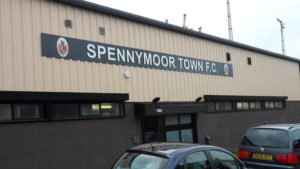 Back to the ground. No car parking at the ground. There is some nearby street parking though Spenny advise using the free town centre parks (such as Dickens Street) and walk.   Spennymoor is not hugely bigger than Leominster so if parking is difficult, head for 67 York Villas where the Tudhoe and District Victory Club have a big free car park and a welcome for Shire folk (10 minutes' walk to ground).
For immediate refreshments, the marquee bar in the ground is open from 1.30. Visitors welcome. The facility is run by a local hotel and the food is recommended if not the beer which is the usual "oh dear me" selection at £3.50 per pint.
The Moors Tavern is the club's official clubhouse and is open to all before and after the game, just 80 metres from the ground.  Expect 4 beers on handpump including Cameron Redeemer (golden ale, 4.2% brewed in Hartlepool.) plus that Doombar stuff.
For the elite group staying overnight, Cheapside is the place to go.  (feel free to add your own witty one-liner at this point.)  Within this street is a Wetherspoons, 'The Grand Electric Hall', worthy of a mention in the Good Beer Guide and offering 3 guest beers. A mention too for the Penny Gill, with 4 real ales and walls adorned with heavy metal souvenirs (presumably not rusting iron). Visiting supporters welcome here.  Two more places to name drop to ensure no-one else goes there – Caffe No 3, highly rated for its sticky buns and vegan menu.  Finally, an much admired Italian restaurant Casa Italia.  Our Northern correspondent Ian adds that Spennymoor is a very down to earth town with friendly locals.
Getting There:
.
By Train:  Do-able in theory.  Five hours each way from the Shire with a change and a standard fare over £100.  Nearest station is Durham which is a 15 minutes taxi ride away.  Southern Bulls have it easier.  Direct train from Kings Cross, 3 hours each way.
By Minibus: Check on Hereford Awaydays Facebook to check whether any seats are available.