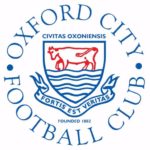 Mark Jones, the full-time manager of Oxford City, has expressed his surprise at hearing the Hoops have been allocated a place in the National League South for the forthcoming campaign.
It was widely anticipated that the demise of Gateshead would see the north-east club expelled from the entire competition, meaning Oxford City – alongside Gloucester City – would have been transferred into the National League North at the weekend AGM.
However, with Gateshead only being demoted into the National League North, rather than being thrown out altogether, has given Oxford a somewhat unexpected bonus as Jones explained, "It was a surprise to get the news that we were put back in the National League South.
"We weren't expecting it. Logistically it's much, much better for us in terms of the players and the distance they're travelling to games. The travel is far less in the South and that helps us in general as a club."
Jones was anticipating pitting his wits against some bigger and tougher sides in the North, "I would like to say, though, that we were looking forward to going into the North once we got our heads around it – we were looking forward to playing against some different sides and some quite big sides. It wasn't something that we were totally against, but these types of decisions are completely out of our hands.
"We're governed by whatever the National League decide to do and they've decided to put us back into the South, but that's the right decision. The majority of people would say that Oxford is a City in the South, and to be going and travelling some of the distances we would have had to in the North would have been a test for us. A lot of the players are, I think, particularly pleased."
"Overall I think it's worked out well. It's been a little bit unsettling in terms of not knowing which league we would be in, then it being confirmed that we were in the North and having to have lengthy discussions with players which caused us a few headaches which we wouldn't have had if we had known we would be in the South right from the start. We're prepared to play in any league, but hopefully now we can stay where we are and have a good season."
Hereford will now be faced with a more gruelling journey to face Gateshead, rather than a relatively short trip to Oxford. The fixtures for the National League North are expected to be released on Wednesday 3 July, with the opening games scheduled for Saturday 3 August.
Gateshead v Hereford anyone?
Image: Oxford City FC