HUST update on Board Nomination: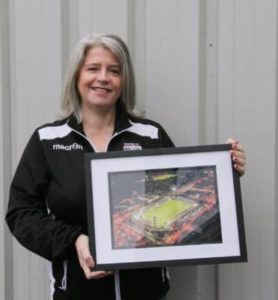 Following the end of a 7 day Member Consultation period, HUST confirms it has written to HFC to formally appoint Joanie Roberts to the Board of Hereford FC for a term of 3 years. Joanie is an experienced Director with a demonstrated history of working in the Business, Consulting & Management Industry alongside Charity & Voluntary work.

Skilled in Negotiation, Business Planning, Internal Audit, Coaching, Public Speaking and Live Event Production, plus Social Media Marketing, she is a strong professional with a wealth of experience in the Hospitality, Customer Service Industries, totally conversant with a range of differing sized Member Organisations and a keen understanding of company strategic planning.

Peter Sell, HUST Vice-Chair said "With 3 years experience on the HUST board and currently its Chair, and as such, a close working relationship and understanding of HFC Board, she has developed a valuable insight into both the commitment and responsibility the role requires."

Chair of the HUST Appointments Sub-Committee, Richard Tomkins said "A full interview was conducted with a panel of 3 persons chaired by myself as in previous years. The panel addressed regular topics and current issues. We have no doubt that Joanie is an excellent candidate to represent HUST on the club board and to contribute to the club through the next period."

"It's a great honour to represent the supporters as a Trust Nominated Director on the board of the Football Club,"  says Joanie.  "I believe I have the necessary skills to represent the members of HUST and the fanbase as a whole, a deep understanding of the value of the Share Purchase and representing the largest shareholder in HFC, alongside my business skills to add value to the HFC board."

The 7-day consultation period ended on 20th February. The Trust received a number of messages from members in support of Joanie Roberts and no objections.