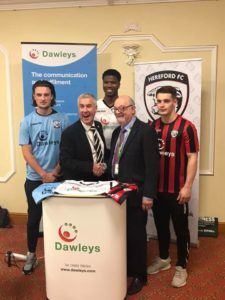 The new look Hereford Football Club shirts will go on sale for the first time this Saturday, 25 May.
Both the official "away" red and back striped shirts, and the sky blue "third" kit will be made available for supporters to buy at a Club Shop launch.
The Shop will open especially for sales between 10am and 1pm.
Dawley's, the club's new shirt sponsors, have their logo incorporated on the front, whilst other club sponsors Montgomery Waters and Magna Electronics logo's are retained on the back and on the sleeve of the shirts.
The replica shirts will cost £30 for children's sizes and £40 for adults, less a 10% discount for season ticket holders.
Both shirts will be available in a range of adult and child sizes.
Images: Hereford FC and Dawleys.