Here is the Talking Bull 'Good Pub Guide' to Leamington ahead of the weekend fixture between the Brakes and the Bulls. Special thanks, as always, to our resident fanzine Hereford Hophead –  Ian Mann.
LEAMINGTON, Saturday, 9th February.
Leamington's ground is situated around three miles from the centre of town near the village of Bishops Tachbrook. Effectively it is "in the middle of nowhere" and walking to it is not recommended due to the lack of footpaths on the busy Harbury Lane, the road on which the ground is located. Fans travelling by bus will probably have no choice other than the clubhouse but those coming by car and train can try looking for alternatives.
Train travellers can get a taxi from Leamington town centre to the ground. Sometimes a 'Park 'n' Ride bus service operated from the railway station. This is for high profile games only, which I guess we would be, but it's not clear from the Leamington club website whether away fans are eligible.
Leamington's premier real ale outlet is the Woodland Tavern at 3 Regent Street, CV32 5HW. This is a Victorian street corner local with two bars and a partially covered courtyard area. The beers include Saddleback best Bitter from the local Slaughterhouse Brewery in neighbouring Warwick, Wychwood Hobgoblin and two changing guest beers. Real cider from Weston's and Thatcher's is available too. No frills and no food but you should find a decent pint here.
In Leamington too is the New Inn at 197 Leam Terrace, CV31 1DW. I have relatives in the Leamington/Warwick area and have eaten here a couple of times. The food is good quality and good value for money. The pub is away from the main town centre in a Victorian terrace and has a welcoming atmosphere although it's very much a locals pub. It's in the GBG but I can't get too excited about the beer selection which includes national brands like Wells Eagle IPA, Green King Abbott and Sharp's Doom Bar and Atlantic. There are usually two guest beers and sometimes you can strike lucky with these with Oakham and Byatt's (of Coventry) often represented.
A new addition to the Leamington pub scene is the Fizzy Moon Brewhouse at 35 Regent Street, CV32 5EE. It's a venue geared to a young clientèle but it does have a good reputation for its food, the menu a mix of English and American dishes plus tapas. It has a huge gin selection and also specialises in cocktails. I couldn't find out too much about the micro-brewing side however. I suspect that brews are likely to be one-offs for events like Halloween or Christmas rather than a regular range of beers. I think there might be one or two guests available too like Purity Mad Goose and Fuller's London Pride. It all looks very eclectic but could be worth a try if you're feeling adventurous.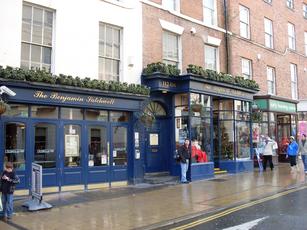 Leamington also has a Wetherspoons, the Benjamin Satchwell at 112-114 The Parade, CV32 4AQ in the town centre. I have been here in the past and at that time found it to be one of the better examples of the chain. It's also closer to that station than the other pubs mentioned so may be the best bet for many of you.
If you are travelling by car it's probably best not to go into busy Leamington or Warwick and look for a village pub instead. There aren't many listed ones handy for the ground but I did look on line at the Leopard Inn in Bishops Tachbrook which has recently been refurbished by the Solihull based Old Spot Pub Company. It seems to be primarily an eating house and the food is pretty expensive but it does offer real ale in the form of Wye Valley HPA (home from home!), Doom Bar and Spot o' Bother from the Yorkshire based brewery Old Spot, which is presumably entirely separate from the pub co. Not ideal, but possibly the closest pub to the ground.
As you'll be travelling down Harbury Lane it might be a good idea to carry on and visit the village of Harbury itself. The Crown Inn in Crown Street, Harbury CV33 9HE has a superb reputation for its food and beers include Purity UBU and Jennings Cumberland plus two guests. Probably a better bet than the Leopard from what I've read.
There is also the Shakespeare at Mill Street, Harbury, CV33 9HR which offers beers from Purity, Black Sheep and Taylor's plus an extensive food menu including tapas, sandwiches, burgers and pub grub classics. However, reviews for the food are decidedly mixed.
Ian Mann