Our latest issue is hot off the press, so we thought it was high time we reminded you how you can get your hands on a copy of Talking Bull, the Independent Hereford Football Club Supporters' Magazine.
First up though, a bit more about the third issue of the 'All New Talking Bull Fanzine'. It's here and jam packed with exciting new features.
In Issue 103, we have exclusiv
e interviews with defenders Jamie Willets and Nathan Summers, we salute our new heroes, journey back to the Twilight Zone, consider if plastic really is fantastic, share memories of Jimmy Hill, return to the heady days of 1976 when the Bulls' reached the top of the Third Division, head out on a pilgrimage, take a look at your glorious letters, and much, much more.
Copies have already been posted to all of our subscribers across the UK and right around the world including Australia, Belgium, France, Germany and the USA, ensuring our supporters are one of the first to get their hands on the fanzine.
The all new Talking Bull is in full colour throughout and is packed from cover to cover thanks to the many, many supporters who have contributed over the last couple of months.
A number of familiar writers have returned to the fold including 'Yokel' whose topical cartoon once again features, but we welcome a number of fans who have written for the magazine for th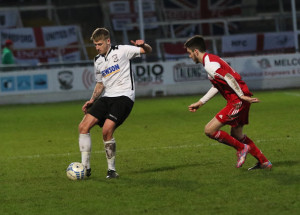 e very first time.
Other well known contributors include club historian Ron Parrott, 'Talking' Bill Thomas, Richard Tompkins aka The Village Idiot, plus Simon & Glynis Wright amongst others.
Talking Bull retails at £2.50 but if you are unable to visit Edgar Street for a match, or reside outside of the UK, why not consider subscribing.
Our postal subscription rates are split geographically into 3 seperate categories; UK, European and Rest of the World.
Talking Bull subscriptions are based on an eight-issue cycle, however you will be advised prior to this period ending in order that you can renew.
Please state at the checkout which issue you'd like your subscription to start from and whether it is a new subscription or a re-subscription. Once you have signed up you will receive a reminder when your subscription is about to expire.
You will also need to include your full name, address and post-code when taking out an online subscription for a printed edition.
Once activated TB subscriptions are non refundable.
The cover price of a printed version is £2.50 with the magazine being sold inside and outside the ground on match days, with additional stocks being made available via the club shop.
Additional stockists across the county of Herefordshire include FIT retailers, 43 Widemarsh Street, Hereford, and the Club Sport store in South Street, Leominster.
Please get in touch with us if your business would like to stock the best fanzine in the West Midlands via our email address: editor@talkingbull.org
Subscriptions are available NOW via our online shop.