Romulus – Ground Guide
By Simon Wright
Hurrah! An FA Cup match within easy reach and accessible by train.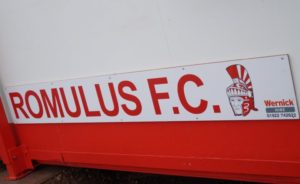 In 1979, Romulus started life as a kids' football club linked to Romulus Steel, and basically snowballed. They are very proud of their continuing Youth development activities, pointing to Premier League players who started with "Rom."
The Step 4 club are tenants at Sutton Town's Coles Lane. Ground-sharing is not a problem, thanks to their wonderful winter-proof 3G surface.
The pitch hosts Sutton (6 teams), Romulus FC (3 teams), Villa Ladies FC (2 teams), plus College sides, and appears to need replacement after just five years.
Normally they are expected to last double that length of time; but unsurprisingly with that usage, remedial work was carried out last week with both Sutton Coldfield Town and Romulus hosting games there over the Bank Holiday weekend. The full pitch costs £134 per hour to hire. A "nice little earner", as Del-boy might say.
Step 3 hosts Sutton have more experience than their tenants with handling larger crowds. Yet Coles Lane has its foibles.
The main stand is a the old structure, with wooden seating for several hundred. Unfortunately, access is via the largest steps I've ever seen at a football ground. Disabled or the infirm will struggle.
There is a large covered terrace near the clubhouse, with overall capacity a theoretical 2,000 figure, which I doubt has been tested. Admission is £10 adults, £5 concessions and it's free for U5's.
Ground parking is highly limited, so expect the scenario where parking is restricted to the narrow local streets, or the town centre car parks.
The easy (albeit expensive) option is the Gracechurch Shopping Centre at B72 1PA, which offers easy access to shops and restaurants.
The Clubhouse has room for 170, including a dance floor. You never know if Joel Edwards gets over his injury… Bar open from noon, with food hatch opening at 1.00pm.
There are many pleasant town centre drinking alternatives, although none very near the ground as it is a mainly residential area. Suggestions: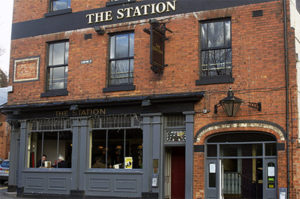 The Station in Station Street is a Stonegate pub within hearing distance of Sutton station. (B736AT). It's a CAMRA pub with a beer garden and famed for its food.
The Horse and Jockey in Birmingham Road B72 1LY works better for car passengers. A pleasant Ember Inn, with copious food and real ale. I blundered through my first interview of a footballer there in 1986.
TRAVEL:
By Road: 69 miles (B72 1NL)
From junction 6 of M6 follow the A5127 to Sutton, turn right at Odeon Cinema onto Holland Road then first right into Coles Lane. Ground is 150 yards on left (look for blue sign next to the shop.)
By train: Easy!
Train to New Street (or University) and Sutton is on the Lichfield Cross City line with a regular service. From the station, cross its footbridge, and then exit via the opposite platform. Pass the Railway pub and cross at the lights. Continue forwards to the High Street, turn right and follow this to the end, cross over at the lights again, turn left and take the first right, around 100 yards down the road which is Lower Queen Street.
At end, turn right and cross the zebra crossing. Next left is Coles Lane. Entrance to the ground is 150-200 yards on the left.
The game is not all ticket, with a reported 2,000 capacity. Supporters can pay on the gate for the match and are advised to get there early to avoid queuing with a healthy attendance expected.
No supporter parking will be available directly at the ground. The stadium is in a residential area with limited on-street parking available in adjacent roads. Supporters are asked to park with consideration for the residents, with a number of car parks within a 10-15 minute walk of the ground – http://en.parkopedia.co.uk/parking/locations/sutton_coldfield_town_football_club_coles_lane_sutton_coldfield_united_kingdom_gcqdyxe7fbk/?country=uk&arriving=201609031400&leaving=201609031800
Should a replay be required it will be at Edgar Street on Tuesday, September 6th with a 7.45pm kick off.