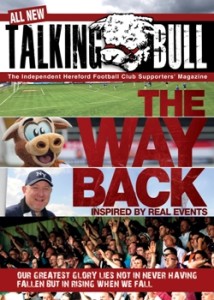 Here are the details you need to subscribe to Talking Bull, the Independent Hereford Football Club Supporters' Magazine.
Talking Bull can be posted worldwide, and our postal subscription rates are split geographically into 3 seperate categories; UK, European and Rest of the World.
Talking Bull subscriptions are based on an eight-issue cycle, however you will be advised prior to this period ending in order that you can renew.
We are offering UK subscribers a deal at £35 for 8 issues, and this includes postage!
For European subscribers 8 issues will cost £55, whilst an 8-issue subscription for our Rest of The World supporters will cost £70.
Please state at the checkout which issue you'd like your subscription to start from and whether it is a new subscription or a re-subscription. Once you have signed up you will receive a reminder when your subscription is about to expire.
You will also need to include your full name, address and post-code when taking out an online subscription.
Once activated TB subscriptions are non refundable.
Due to increased production and printing costs the cover price of Talking Bull is set to rise to £3 from the beginning of the 2017/18 season, with the magazine being sold on match days, with additional stocks being made available via the club shop, and from our retail outlets at FIT, Hereford and ClubSport, Leominster.
Additional stockists across the county of Herefordshire will be listed in due course, however please get in touch with us if your business would like to stock the best fanzine in the Midlands & South West via our email address: editor@talkingbull.org
Subscriptions are available NOW via our online shop Click here to subscribe to Talking Bull