Here at Talking Bull we are continuing to build up our archive detailing the careers of former Hereford Heroes. This time we cast our eye over an enigmatic player who terrorised opposition defenders when he was in full flow:
HEREFORD HERO
LIONEL AINSWORTH
It's the 20th of November, 2007. Leona Lewis topped the UK singles chart for the 4th week with "Bleeding Love", Harry Potter and the "Order of the Phoenix" was smashing records at the box-office, whilst Rodney Marsh was carried off the set of "I'm A Celebrity Get Me Out of Here". Back in the real world a share slump meant Northern Rock banking shares were effectively worthless. Not that Hereford supporters cared much, they were off to Elland Road, the home of former giants Leeds United, in the FA Cup.
Hereford had secured the 1st Round replay thanks to an entertaining Friday night goalless draw at Edgar Street on 9 November, when goalkeeper Wayne Brown kept Leeds at bay. But at the other end only a finger-tip save by Kasper Ankergren kept out an Ainsworth header, and a rare over-head kick by John McCombe missed the goal by inches.
And so, to Elland Road. Roadworks ensnared the M1 motorway. Many Hereford supporters arrived late. Many more turned up at half-time after listening to match commentary on their radios. Most missed the winning goal from Ainsworth in the 3rd minute. Theo Robinson picked up the ball outside the box, and forced a pass into the path of the diminutive winger. Quickly moving the ball onto his right foot he then shot accurately, seemingly with minimal back-lift, past a helpless Ankergren who stood motionless. The Elland Road faithful were in shock, those Bulls' fans who had made it in time were in raptures. "You're not famous any more", echoed around the stadium.
Leeds' best effort came from striker Tresor Kandol but an effervescent Hereford thoroughly deserved a momentus 1-0 win. Indeed, Ainsworth had once again put on quite a show. The in-form Leeds side had been outplayed by a confident counter-attacking side playing with no fear. Maybe this was not as illustrious as those nostalgic victories over Newcastle and West Ham – but still very much a bona-fide giant-killing.
Ainsworth thus carved his name onto the 'Hereford Hero' list in one of the shortest periods I can recall.
Born in Nottingham on 1st November 1987 he began his professional career at Derby County signing his pro-contract in August 2005 after having already represented England at U-17 level in a 1-1 draw against Switzerland at Ashton Gate. Lionel was to make his Rams first team debut on 25 February 2006 in a 1-0 win over Plymouth Argyle. Next came England U-19 call-up's against Scotland and Slovakia, and another Derby first team appearance as a substitute in a 5-0 loss to Reading in April 2006.
Ainsworth then spent four months on loan at League One side Bournemouth, but only made 9 appearances, prior to more spells away from Pride Park at first Halifax and then Wycombe Wanderers.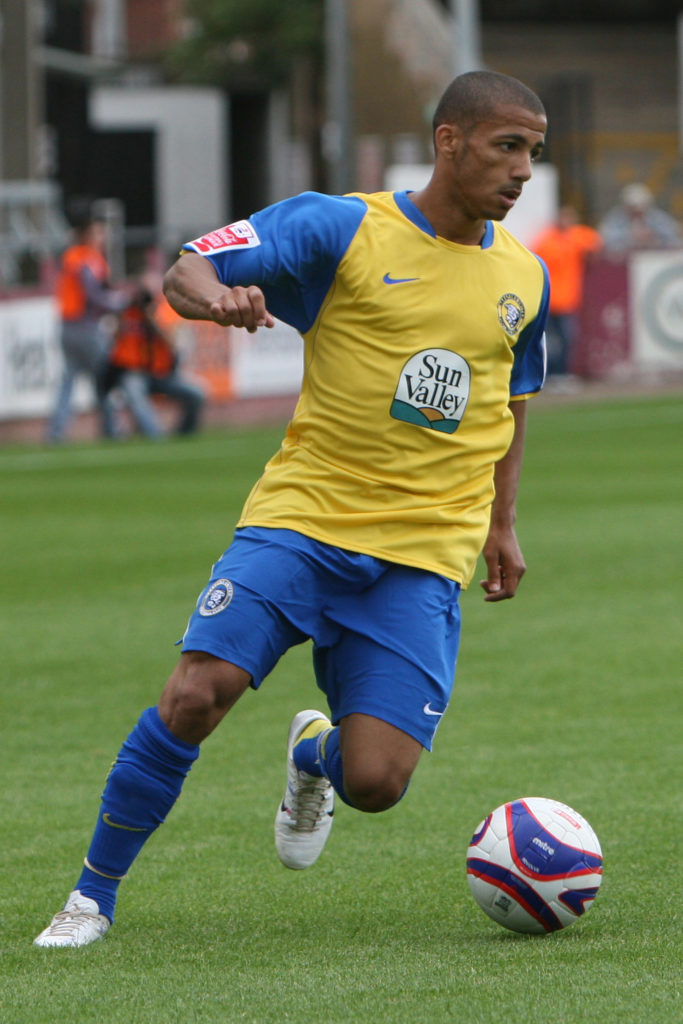 Bulls boss Graham Turner had become aware of the wide players abilities during his loan period at Halifax and move quickly when the 20-year-old was surprisingly released by Derby in the summer of 2006 with Hereford about to embark on their second season back in the Football League. Lionel immediately impressed with pace, excellent close control and an eye for goal.
Indeed, Ainsworth scored a hat-trick in only his second competitive game for the Bulls in a 4-1 victory over Yeovil in the League Cup at Edgar Street. His trickery and ability to beat a defender at full pelt made him an instant favourite.
Another hat-trick followed, this time against Stockport County in a 3-2 win in League Two at Edgeley Park which gained national exposure due to the sheer quality of his individual solo goals. The ex-Derby County winger was in free flow at times and was deservedly Hereford's man of the match.
"He has had a really good game. He has been doing things like that all season. Lionel has got good pedigree. He learned his trade at Derby County and I think you can see that," said Turner after the game. "He's got a fantastic hat-trick and I'm really pleased for him".
Hereford were quickly aware of his potential value in the transfer market and scouts from the Premier League and Championship were virtually queuing up to assess the winger. Watford won the race to secure his services with the Bulls able to retain Toumani Diagouraga and Theo Robinson on loan to the end of the season as part of the deal. An undisclosed six figure transfer fee was additionally agreed in January 2008.
Aidy Boothroyd lost his job at Vicarage Road with Malky MacKay taking over. This restricted opportunities for the young winger and he returned to Edgar Street for a month's loan in November 2008. Three more goals for Hereford followed. Two against Oldham Athletic in a 5-0 hammering. Watford immediately recalled him.
For whatever reason Lionel has never settled and, despite his undoubted talent, his inconsistency has disrupted what could, in my opinion, have been an outstanding career.
Since leaving Watford in 2009 he has played sporadically for Huddersfield, and linked up with Graham Turner again at Shrewsbury in 2010, prior to moves to Rotherham and Motherwell. Interspersed are far too frequent loan spells at Brentford, Burton and Aldershot.
Currently aged 31, Lionel is at Plymouth Argyle in League One after rejecting another contract from Motherwell.
Rarely have I seen a Hereford crowd as excited as they were whenever Ainsworth received possession of the ball. You just never knew what was going to happen next.
I'd love to see him back at Edgar Street in a Hereford shirt one day. I doubt it'll ever happen, but  we can still dream can't we?
Keith Hall