After two coViD ravaged years it will be good to begin a 'normal' football season with no restrictions. This will also apply to pub going as well as watching football and it's good to be able to pen this column again after a long coViD generated interruption.
The virus seemed to affect the club on the field too and the uncertainty about the 2021/22 season led to us making a poor start from which we never really covered despite a spirited mid season rally. After two of our best performers were subsequently cherry picked by Brackley and York we then fell just short of the play offs, but it was that poor start that really did the damage.
As ever at our level August is a busy month with six games in fairly rapid succession and we really do need to hit the ground running. By the end of the month we'll have some idea as to how good this squad is in comparison with the rest of the division. TOE's goals will be badly missed and I worry that we may be lacking in terms of fire power once again. Let's hope the likes of Storey, Barnett and McLean can prove me wrong. Miles, in particular, needs to add goals to his game and prove that he's not just a 'more style than substance' type of player. If he can start taking his chances on a regular basis he could be devastating at this level.
It's been a long time since we last went to Scarborough and so it seems appropriate to bring you the Talking Bull Good Pub Guide.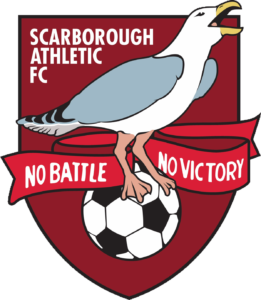 SCARBOROUGH ATHLETIC, 13/08/2022
Like us Scarborough Athletic is a 'phoenix club' and has recently returned to the town after ten years exile in Bridlington.
They have a new ground, the quaintly named Flamingo Land Stadium at Scarborough Sports Village, Ashburn Road, Scarborough, YO11 2JW. It's nowhere near the old Seamer Road ground, which many of our fans may remember from days gone by. We used to call in at the Tap & Spile at 94 Falsgrave Road, YO12 5AZ on the way to the ground. It's still going but probably won't be part of the itinerary now unless you're staying for the weekend and fancy a nostalgia trip. Beers currently include Black Sheep, Timothy Taylors, Theakstons and Camerons.
Closer to the new ground are two pubs in Valley Road. Both offer accommodation, but I haven't researched this aspect of their offerings.
Cellars at 35-37 Valley Road is a regular Good Beer Guide entry and is based in the former cellars of a converted Victorian town house. It has six hand pumps serving three regular beers (Bradfield Farmers Blonde, Camerons Strongarm and Daleside Monkey Wrench) plus three guests and also real cider. It also serves food and has a good reputation both for this and for its ale. There is a patio area which may come in handy if the weather is good. All in all this sounds like a 'must'.
Just up the road at number 51 (post code YO11 2LX) is the Valley Bar, which is also located in a Victorian villa. The bar is divided into several drinking areas and features antique décor. It serves Dark Star Hophead on a regular basis plus two guest beers (usually sourced more locally, often Scarborough, Pennine or Roosters) and a selection of real cider and perry. A range of cold snacks are offered but not hot food. Not as essential as Cellars but may be worth investigating as it is in close proximity.
On my last visit to Scarborough on non football related business I enjoyed a visit to the North Riding Brew Pub at 161-163 North Marine Road, YO12 7HU. The former North Riding Hotel still offers accommodation and also an impressive range of ales from North Riding Brewery, which has moved to larger premises elsewhere in the town after outgrowing the pub. I remember the pub as being a good, friendly, basic alehouse with beer at sensible prices and it still seems to have a good reputation for its beers, which number six in all and include some guests. Real cider is also offered but no food. Definitely worth investigating.
A pub with an impressive reputation is Scholar's Bar at 6 Somerset Terrace, YO11 2PA. A frequent CAMRA award winner it serves four regular beers these being Hambleton Nightmare Porter, Ossett White Rat, Ossett Yorkshire Blonde and Theakston Old Peculier, the latter straight from the cask. There are also two guests, usually sourced from Yorkshire breweries such as Ilkley, Rat and Timothy Taylor and also Thornbridge from Derbyshire. Real cider too but no food. Don't let the TV screens put you off.
Scarborough's Wetherspoon offering is the Lord Rosebery at 85-87, Westborough, YO11 1JW, which was once the town's Liberal Club.
Scarborough Athletic have the following Pub Partners:
Scholar's Bar – Walking distance to the ground, real ales, live sports, drinks promotions.
The Tow Bar– Great location on the outskirts of Scarborough, ample parking, child friendly, suitable for coaches, drinks promotions.
The Firk Inn , Rack n Roll , Lord Nelson , The Foxhound Inn , The Cockpit (restaurant)
By Ian Mann – The Hereford Hophead