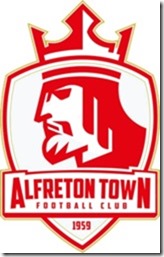 The Impact Arena is one of the grounds we've previously visited most often, after Kidderminster and Chester in National League North. Under Graham Turner, we scraped a win there in the FA Cup in 2005 and Hereford United played several Conference games there. It was a gripping encounter the last time we visited with Luke Haines grabbing a dramatic equaliser in an enthralling 3-3 draw.
Alfreton is a small Derbyshire town, which, even when all the outlying villages are included, has a population of only 22,000.  There isn't much more to say about the town, other than the HQ of Thorntons Chocolate is based here. Check out the Tripadvisor list of "Ten best things to do in Alfreton" and 9 of them aren't in Alfreton!  The solitary local attraction is a war memorial. Obviously worthy, but not likely to tempt people to travel to admire it.
A population of 22,000 isn't a terribly big base to support a Step Two football club. Alfreton Town were born in 1959, following a merger of two local clubs. Radio Hereford FC have older presenters than that. The club has never enjoyed big support. The seasonal average gate there is 520, normally one of the lowest in National League North.
Alfreton are often criticised for their long ball style, and are always a very solid, organised unite under boss Billy Heath who is in his 6th season at the Impact Arena. The Reds relied on 38-year-old Matt Rhead last season, and have brought back 6'7″ striker Tom Denton into the squad this term. The manager does like big blokes up front.
One of the few big news stories about Alfreton in recent years is when Humberside-based Euro million winner Lee Mullen became a director in 2017. He gave the club a chunk of money. The amount, according to the club accounts, was £85,000.
Onto the ground itself where there are 1400 seats, close to 3 each for the regular attenders. The main stand is a strange mix of seats and small terraces with lots of pillars getting in the way. On the opposite touchline is the Tom McRoy stand.  (Tom was a club co-founder who died in 2014.)  Visiting supporters usually sit here. There are more pillars to look around but strangely there is no barrier between seats and pitch.
Behind the North Street goal is the "Tin End", a steep terrace with a token amount of cover at the back.
Car parking is limited to a small area in North Street, around garages if I remember. Beyond that, its street parking only. As the ground is hemmed in, there are turnstiles only at each end of the ground.
Unfortunately, Alfreton are insisting on segregation which doesn't really seem necessary.
For refreshments, be aware the Reds bar inside the ground is for home supporters only. We can get into the Alfreton Town Supporters Club outside the ground in North Street. This is a seven day a week operation, but beer choice is thought to be unexciting.
Alternatives are quite limited. The Victoria pub on Nottingham Road serves two guest real ales. A few minutes' walk away in Prospect Street is a small new micropub, surprisingly called the Prospect Street Micropub. This offers a choice of four rotating real ales and two ciders. Neither establishment offer food.
The local Wetherspoons is the Waggon and Horses in King Street, which is 15 minutes' walk away.  Six real ales, including guests and their regular food offering.
Not plugged a coffee and cake venue for a while.  Made at No 18 in Church Street is a highly rated licensed café bistro (no 3 out of 51 in Alfreton) serving homemade food. Just one street away from the War Memorial.
Getting There
By Car:  244 miles return (DE55 7FZ) Leave M1 at j28 onto the A38 towards Derby. Follow for 2 miles then take the slip road onto the B600. Turn right at main road towards the town centre. After half-a-mile, immediately after Catholic Church on left, turn left into North Street for the ground.
By Train:  Yet another fixture where its easier to travel from the Smoke than the Shire. From Hereford, train travel is over 3 hours each way, with 2 or often 3 changes. From London St Pancras, Alfreton is reachable in just over two hours with only one change at Chesterfield.