It's 6th versus 10th in the Vanarama National League North this weekend as Darlington host Hereford. 
The Bulls will not be trembling, quivering, shivering or quaking in their boots for this one as just eight points seperate the sides in the division. Indeed, on the current 6-match form table Hereford are 5th, whilst Darlington are 4th bottom!
Our hosts were somewhat nomadic since re-forming. For the last 6 years, they've played at Blackwell Meadows, a none-too attractive out of town shared rugby ground which needed improvements to meet Ground grading. Some supporters remain vexed to this day because they were barred from the play-offs one season because they didn't have enough seats.
Darlo has itchy feet, wanting their own ground and have shortlisted a couple of sites in the north of the town. They see AFC Fylde's Mill Farm as a model to follow but the key difference is the Quakers are supporter owned so funding will be a challenge. Darlo believe they can make a planning application in March 2023, meaning they can be in a new 5,000 capacity ground by the start of the 2024/25 season. That feels optimistic. Both York City and Boston United thought they could manage a speedy turnaround too… It was just the 14 years for York in the end!
Given the 350-mile round trip, our travelling numbers will be small. Hopefully Darlo will not insist on the joyless experience of segregation. Curiously, even when not segregated, visitors are not allowed in the Tinshed, the popular terrace end.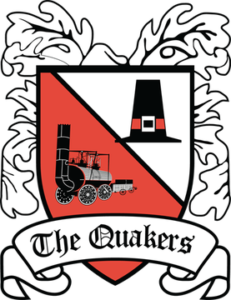 Admission charges are £15 terrace, £17 seats. You can pay on the turnstiles at no extra cost. This is possible as the on the day roll-up is quite small. Two thirds of the average attendance are already season ticket holders. Average gate is 1,500 which has barely changed over the last four seasons. Parking can be a pain here, leaving everyone with very little option other than to pay £5 to use the club car park and queue none too patiently afterwards to reach the single exit. Blue badge holders pay the same.
Last season, the Quakers were making a play-off run, had their two best players bought by bigger clubs and subsequently slipped down the League. With the departure of top striker Mark Beck in January to Solihull, you wonder whether the same might happen again. They were genuinely title chasing but now realistically it's the play-off lottery for them. As we know too well, key players can't be easily replaced mid-season and Darlo had to bring in loan player from EFL clubs.
The Quakers home and away record is almost identical. They have lost 4 home games, though only to clubs in the top seven at the time. They are quite adept at dealing with the strugglers.
Still, they do remain one of the division's top scorers with 63 goals from 35 games played. Both Jacob Hazell and Jack Lambert feature in the league Top Ten strikers table. However, their defence is quite porous, having given up more goals than some teams who lie in the bottom seven. Their gaffer was particularly annoyed that his club recently gave Leamington their only win since October by conceding late goals from a long throw and a corner.  That's Alun Armstrong by the way, a striker of some repute in his day before taking Blyth to the play-offs in his first managerial role. He joined Darlo back in 2019. Alun and his wife, who have 9 children between them, run a family business, a café based in Wolsingham in County Durham. Son Luke, who is a striker with Harrogate Town, specialises in making carrot cake. The stuff you learn here…
Darlington supporters are the best in the NLN at fundraising.  Their annual Boost the Budget campaign is the main driver of course, their support also purchase over 2,000 50/50 tickets each game. On top of that, their away travellers raise money to cover overnight stays for the players. Their bank balance remains in the black, mainly due to fundraising and their £400,000 worth of ground improvements.
Radio Hereford FC and BBC Hereford & Worcester will both be covering the game and will be highly visible in the bar afterwards. Do join us if you can.
Simon Wright