We are delighted to confirm a bumper 56-page issue of Talking Bull will mark its return to Edgar Street on Saturday 8 August ahead of Hereford Football Clubs first match in the MFL against Dunkirk FC.
The all new Talking Bull will be in full colour throughout and is packed from cover to cover thanks to the many, many supporters who have contributed over the last couple of months.
A number of familiar writers have returned to the fold including 'Yokel' whose topical cartoons will once again feature, but we welcome a number of fans who have written for the magazine for the very first time.
Other well known contributors include club historian Ron Parrott, 'Talking' Bill Thomas, Richard Tompkins aka The Village Idiot, plus Simon & Glynis Wright amongst others.
Talking Bull will retail at £2.50 for the printed version but if you are unable to visit Edgar Street for the match, or reside outside of the UK why not consider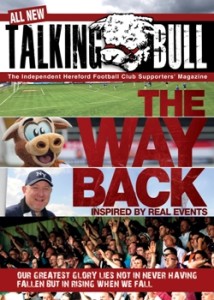 subscribing.
Our postal subscription rates are split geographically into 3 seperate categories; UK, European and Rest of the World.
Talking Bull subscriptions are based on an eight-issue cycle, however you will be advised prior to this period ending in order that you can renew.
We are offering UK subscribers an early bird cost-price deal at £20 for 8 issues, and this includes postage!
For European subscribers 8 issues will cost £25 at the early-bird rate, whilst an early-bird 8-issue subscription for our Rest of The World supporters will cost £35.
However, these rates will only be available for a limited 14-day period before our regular subscription offers are revealed – so order now!
Please state at the checkout which issue you'd like your subscription to start from and whether it is a new subscription or a re-subscription. Once you have signed up you will receive a reminder when your subscription is about to expire.
You will also need to include your full name, address and post-code when taking out an online subscription for a printed edition.
Once activated TB subscriptions are non refundable.
The cover price of a printed version is £2.50 with the magazine being sold on match days, with additional stocks being made available via the club shop, and behind the bars in Addisons and Radfords.
Additional stockists across the county of Herefordshire will be listed in due course, however please get in touch with us if your business would like to stock the best fanzine in the West Midlands via our email address: editor@talkingbull.org
Subscriptions are available NOW via our online shop Click here to subscribe to Talking Bull