In this additional feature for Talking Bull we look back affectionately at some of the music that has been played at Edgar Street via the PA Box over the years.
In recognition of the late great Don Cooke we are calling this archive "Don's Discs" and we are sure many, many Hereford supporters will recall his voice, as well as his music. Don operated the public address system at Edgar Street for the best part of 25 years.
This is in fact not so much a Don's Disc, but a Keith's Disc played during the mid to late 1990's when yours truly manned the PA Box microphone at Edgar Street. Often this was used as a run-on track as the teams ran out onto the pitch prior to matches.
Hereford were in the Endsleigh Football League at the time – in Division Three – and were managed by Graham Turner who had been named the Bulls' new boss in the summer of '95. The season had started well with a thumping 4-1 home victory over Barnet. Even goalkeeper Chris MacKenzie got his name on the scoresheet on the opening day of the season.
However, by the time Echobelly released the single "Great Things" from their album "On" in September 1995, things were far from good at Edgar Street. Long term injuries to Tony James, John Brough and Murray Fishlock had set the Bulls back, but somehow, despite being on a tight budget Turner managed to bring in Steve Blatherwick (on loan from Nottingham Forest), full-back Darren Evans from Aston Villa and Keith Downing from Wolves.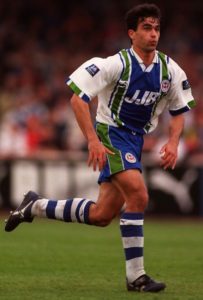 I first played this track over the PA system on the 30th September 1995 ahead of a match against Wigan Athletic. Richard Wilkins scored inside the second minute, but in truth Wigan were much the better side. Indeed, the Spanish pair of Isidro Diaz and Roberto Martinez ran the show. Diaz and Greenall scored as Wigan dominated throughout, but Steve White powered home a header off the underside of the cross-bar to steal a point in a 2-2 draw in the 86th minute.
Hereford: MacKenzie, Clarke, Lloyd, Smith, Blatherwick, Downing, Pounder, Wilkins, Lyne, White, Stoker. Sub: Preedy.
Wigan: Farnworth, Doolan, Ogden, Greenall, Pender, Martinez, Diaz, Kelly, Benjamin, Rimmer, Lyons. Sub: Carragher.
Attendance: 2,198.
Echobelly briefly found fame back in the mid-90s during 'Britpop' but were not your everyday band. Formed in 1992 by Sonya Aurora Madan (vocals and main lyricist) and Glenn Johansson (guitars), the band was a rare multinational and multi-ethnic collective: Sonya Madan was born in Delhi, India, although she moved to the UK at the age of 2. Still, the Indian appearance is still somewhat there, which gave her a lot of extra attention in the media.
The band caught attention and a lot of praise, up to the point that even nobody less than former Smiths frontman Morrissey was impressed enough to personally invite Echobelly to open for him during a tour. Sonya's vocal style has some slight similarities with Morrissey's style of singing, leading to some press dubbing her the "female Morrissey".
1995 saw the release of the band's second album "On". This does contain my favourite Echobelly songs, so I would be keen on considering this the moment when Echobelly really lifted themselves way above the other female-fronted British rock bands that were rising in the mid-nineties. "Great Things", an anthem dedicated to taking risks and experiencing everything in life as much as you can, even became a smash hit that won a trophy for best video. The lines of the song are pretty self-explaining: "Oh, what do I know? There's gotta be so much I don't know… I wanna do great things, I don't want to compromise. I wanna know what love is, I wanna know everything". Ambitious, but catchy and with determination enough in the vocals that the song became very uplifting. It is an anthem of ambition and always aiming higher, injecting a fresh dosage of positive energy right into the veins.
That struck a chord for me back at Edgar Street, and from being third bottom of the table in February, the Bulls went on an unbelievable run and reached the play-offs in 6th spot.
Great Things indeed – although defeat to Darlington still hurts!
Keith Hall
f you have a favourite song you loved hearing at Edgar Street, let us know here at Talking Bull email us:
editor@talkingbull.org