Edgar Street was buzzing again yesterday, and that feeling has been absent for some months. It showed in the numbers of fans staying for autographs and the volume of social media postings both during and after the event.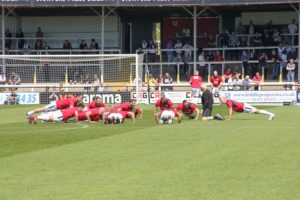 The players who turned out for Rob Purdie's testimonial match were key to creating that buzz. For fans it was an opportunity to renew some old acquaintances and thank players from both Hereford United and FC days for wearing the shirt. Especially since, as fans, we often don't get the chance to say goodbye when players leave. And yes, it was an opportunity for thanking ex Managers too for what they have done for the club.
But that also goes both ways, and yesterday gave both players and Managers an opportunity to thank the fans.
Also deserving of thanks are Rob Purdie (as it was his testimonial I couldn't really not mention him !) and the team of people volunteering with the organisation. It was a great day because of the hard work of these people.
As is most often the case I am last with posting any photos, however I hope the wait is worth it. For me yesterday will become another unforgettable memory of my time following and photographing Hereford.
Content and Images: Andy Walkden
If you missed the match but would like to donate:
The Adam Stansfield Foundation promotes community participation in healthy recreation for the benefit of children & young people up to the age of 16 residing in Devon, Herefordshire and Somerset and provides awareness of Bowel Cancer and is helping in the quest to save lives.
The Junior Bulls is a Community Interest Company which provides activities for boys and girls of all abilities within the local community and encourages a family friendly atmosphere at Edgar Street on match days involving Hereford Football Club.