Here at Talking Bull we are continuing to build up our archive detailing the careers of former Hereford Heroes. This time we cast our eye over a player who acquired cult status after joining the club from Aston Villa in 1972.
HEREFORD HERO
HARRY GREGORY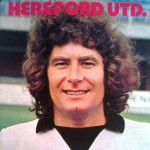 Many longstanding supporters were especially saddened to hear of the passing of the former Hereford midfielder in June 2016, at the age of 72. The midfielder graced Edgar Street for three seasons in the early 1970s, leading the Bulls to promotion from Division Four at the clubs first attempt in 1972.
Gordon Gregory was born on October 24, 1943 in Buckhurst Hill in London, but was always known as 'Harry'. His determined, yet skilful, approach to football was spotted at an early age, and Harry joined the Orient groundstaff straight from school, gaining England schoolboy and England youth international honours whilst still a junior at Brisbane Road. On reaching his 18th birthday he was immediately offered full professional terms, but had to wait until 1962 before making his debut in the Football League.
The combative midfielder went on to make 79 league appearances over the next three seasons for Orient, scoring 11 times, before being transferred to Charlton Athletic in August 1966.
He immediately became a regular at the heart of the Valiants midfield, and over the course of the next four years chalked up another 149 league appearances. During this period his eye for goal was at its sharpest as Harry grabbed 24 goals to make him one of the most consistent players outside of the top flight.
Meanwhile, Aston Villa had suffered the shock of relegation to the Third Division and were desperate for a player with fighting, leadership qualities to spearhead a determined drive back up the leagues. A transfer fee of £7,000 saw Harry relocate from London to Birmingham in October 1970.
The Londoner put in some terrific performances that season as he drove Villa to promotion. However, injuries struck and he was unable to reclaim his place in the Villa side during the following campaign.
Hereford had just been elected to the Football League and despite having a number of experienced players in their squad, were a little short of the combination of aggression, flair and unpredictability that typified Harry Gregory. The then Hereford boss, Colin Addison, moved to bring in both Gregory and winger David Rudge from Villa Park for a total fee of £11,000 in August 1972.
These acquisitions quickly provided an excellent balance to the Bulls midfield, with Gregory soon becoming a favourite with the supporters. But, such was his outgoing style at times he had an ill-disciplined attitude which could wreak havoc on occasions. He was thus greatly appreciated by the fans, but not always by the management!
He once threw off his shirt when being substituted, and such was the media interest in Hereford at the time, the incident made the back page headlines in the Daily Telegraph. His explosive temper cost him over £100 in bookings and suspensions in his first season at Edgar Street, although Harry was always quick to defend his playing record.
'Being so much involved in the game has affected my disciplinary record', he said in 1973.
'I think that I perhaps get so involved that when I'm pulled up for something, I just flare up. Or when things aren't going right for us I become too aggressive in trying to remedy it.'
John Sillett was appointed Hereford manager in July 1974, and just four days before the start of the new season Gregory was told he needed an operation on an achilles heel and this kept him sidelined for three months. Sillett admitted it was a 'tragic blow as any team would miss a player of his ability'.
Harry did make a return in December but could not force his way back into an immediate first team slot, and demanded that he be placed on the transfer list, an act Sillett described as 'hasty'. Indeed, the midfielder did go on to make another 11 appearances for Hereford, but in May 1975 he left the Bulls to join Chelmsford in the Southern League, after turning down Torquay and Wimbledon.
For many his abrasive style of play, his on the field arguing and antics were more than offset by his superb passing, crossing, scissors-kicks and back-heels. Harry was very much a flair player, and very much a leader. The very issues that got Harry into trouble also helped him gain the captains armband at Edgar Street.
'I shout a lot anyway. Even in training I tell the players what to do, it just comes naturally.'
Harry will always remain a Hereford hero. A winner whose effervescent character, spirit and determination helped the Bulls to promotion out of League Division Four at the very first time of asking. His positivity was there for all to see.
Keith Hall
Images courtesy of Ron Parrott.