Hereford handed a club debut to the cultured midfielder Jordan Lyden in the FA Cup yesterday.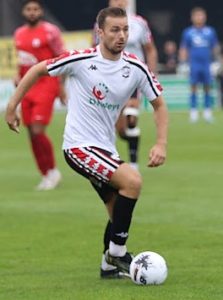 Lyden has been highly regarded after receiving a scholarship with Aston Villa back in 2012, but a succession of injuries have held him back. "Good player, made of Weetabix," was one comment I heard from a Villa fan. "Quality when fit" was another. Lyden is desperate to rid himself of the injury-prone tag.
ECU Joodalup FC (as was) is a university football team, based in one of the sprawling suburbs of Perth, Western Australia. Their name was one of many unfamiliar ones on the Australia football pools (or were, they are called Perth Red Star now). They play in the Western Australian league. I saw them play a home game v Sorrento FC along with friends and a very large rottweiller. This club with its open pitches and token admission monies collected in a bucket seemed an unlikely place for a future Premier League player to learn his trade.
Yet that's the case for Perth born Jordan Lyden and several others because of a talent deal with Aston villa. He first had a trial with the B6 club and from the age of 12, he and his father were flown over four times per year. When he was 16 in 2012, he moved permanently to the second city on a scholarship. He told the Sunday Times "when I was five, I used to watch the Premier League and it was always what I wanted to be. I always had a ball at my feet; I've always loved it and I still do." Lyden's Perth-based parents Kevin and Donna are English. "I've never known a kid from five and six years old with that determination to go through, and never once have we pushed him. He wants to do it," Lyden Sr said.
Initially the dream followed the plan. The youngster rose rapidly through the ranks and make his first team debut in a pair of matches against Wycombe Wanderers in the FA Cup. There were minutes against Liverpool where his "best mate" Jack Grealish kept him calm. "It's something I'll remember for the rest of my life," the then 19-year-old Lyden told foxsports.com.au. "It wasn't ideal coming on 5-0 down but coming on against Liverpool, who had some world class players playing that day, it was a great experience for me." He started against Bournemouth, played 78 minutes against Arsenal and went off injured.
Although with Villa for a further 3 years he would never play for their first team again. Coming back from injury and desperate to force himself into the manager's thinking, Lyden would go hell for leather in training sessions to try and impress, only for him to continually break down with injuries. Villa released him in March 2019.
Swindon Town offered him a deal where he played alongside Paul Caddis. Talking to their media team, the Perth midfielder explained "A lot of people say I am injury prone which really does my head in. I felt I was partly mismanaged at the same time where I was just doing too much, because there were different managers coming in and I was trying to impress. Some people can train every day, some people can't and my body type obviously can't do that.'
At Swindon, Jordan promoted both his skills and that his body was still letting him down. 45 appearances sound reasonable but this for a senior player over two plus years? Still his absences gave an opportunity to a young hopeful – Luke Haines. Lyden rupturing his achilles was the final straw at Swindon. As Lyden told the local press "I went for a scan and they said 'you've completely ruptured your Achilles.' I was heartbroken because I know how serious that is." His contract was not extended. (Caddis was released at the same time).
The Swindon Townender offered this summary "Lyden is a wonderful player when fit. I feel that he could have been a championship standard player if he could stay fit. I hope he finds a club and manages to stay injury-free. Sad to see him go but his injury record is simply dreadful."
Out of contract, no-one would take a chance on the injury prone midfielder until Leyton Orient offered him a short-term deal in January 2023. But he only made 5 appearances, again curtailed by injury.
The Aussie has played one competitive game since February 2023 so wholly understandable that he played only 60 minutes v Anstey Nomads. At the age of 27, this was only his 82nd senior game and his first as a part-timer. Hereford may be his last go.
According to the Aussie press, he's been contacted by A-League clubs about coming home, although Lyden admits he "would probably like to play over here a little while longer" before returning to home shores.
Lyden appeared cool, composed and classy in centre-field for the Bulls yesterday. Everyone hopes full-fitness returns over the next few months. Lyden and Hereford will definitely benefit if that proves to be the case.
Simon Wright
Images courtesy of Graham Goodwin