Hereford make the relatively short trip to Chester on Bank Holiday Monday and, with the match being pay-on-the day, a sizeable travelling contingent of over 800 fans are expected to follow the Bulls.
Simon Wright takes a look ahead to the game he's describing as "The Welsh Cup Winners' Derby"…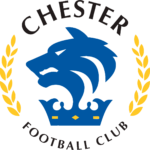 Chester FC  
Ten months have elapsed since our last visit to Wales, Not a night we'd care to remember. Marc Richards was announced as Head Coach that evening but didn't travel so Tim Harris was in charge with a mate helping out. Even though all the vocal backing stemmed from the visiting support, our team were beyond lifting. No lack of effort or work rate from Hereford as they steamed into the opposition but the lack of Step 2 nous was clear. Part of that "nous" seems to involves falling over a lot. There were several home Devas at the Deva. Chester won 3-0 though I confess to being well back in England and heading South before the final goal went in. The points were settled once McGrath was sent off. From the 16 players representing the visitors that night, only Kieran and Jordan remain thus that defeat isn't that relevant to the here and now.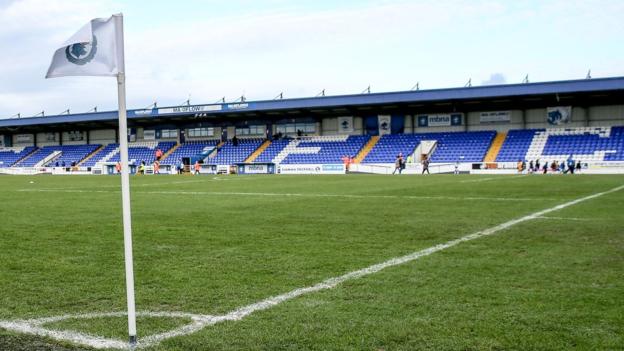 No need to dwell long on Chester's carbuncle of a ground as Edgar Street clubs have visited here or their previous ground regularly over the years. Strange things happen to the Deva or the Swansway Chester Stadium as it is officially dubbed. Early last season, there was a serious flood which meant no home games for a month. A more flippant person than I might suggest flooding is the logical consequence of any club with a pitch in Wales. Naturally, I would never offer such a calumny myself. Their misfortunes continued this summer. A group of groundhopping travellers were so impressed with Chester's steel and concrete box structure that they parked their vans in the club car park so they could admire it every day. Eventually, the football club had to pay big bucks to bailiffs to evict them.
And then there was the vandals. A small group broke into the ground one evening, daubed graffiti, smashed windows and the club tractor while leaving a collection of turds behind. Easy to joke about taking care where you sit but the harsh reality is the club were saddled with additional expenditure.
Whatever next? Might someone claim that the body of Owain Glyndwr is buried in the centre circle and demand an architectural dig? Or the whole club disappear down a mineshaft that no-one knew was there? Do be cautious during our visit. Be wary of a local earthquake or an outbreak of flying ants (as happened at Kettering on the opening day).
We are segregated and seated behind the goal nearest the car park entrance. Bring your passports as the Bumper Lane approach road forms the border. Admission is £15 adults and £12 seniors/ students/Armed Forces with just £3 required for Under 16's. There is a special £10 rate for 18 to 21-year olds but only if ID is presented. Car park at the ground (£2) though many choose to park along Bumpers Lane without charge. Being a Bank Holiday, there will be ample scope to park around the estate itself if required. Refreshments are very low key. The moribund Blues Bar is simply far too small for purpose and both the queuing and overcrowding is rather unpleasant. The bar has a capacity of 120 for an average crowd just under 1,900, seventh largest in Step 2.
There are no other refreshment venues within 20 minutes' walk. If driving, I suggest the Thomas Telford Warehouse, a CAMRA canalside pub with food open from noon. The venue is outside the city centre with its own car park and just over a mile from the ground. (Thanks to Hereford Hophead in Talking Bull for the tip. Where would be without a fanzine?)
The Cestrians have the uber aggressive Johnson and Morley as joint managers. Imagine "Pee Wee" Long. Double him. Ian Long Times Two if you like. Then add some righteous anger. Now you're close to replicating this duo. The pair live in Bury and were linked with the Bury FC management job but that was never a realistic option. Both have well paid jobs. Johnson is a truck driver and Morley a ceiling fixer. Ha! Proper jobs, none of this running a training school airy-fairy stuff. The pair seethed and ranted through last season as Chester finished in upper mid-table, with occasional shocking results like the 8-1 massacre at Blyth. After that game, infamously Johnson "advised" his own players to rip their contracts up. Severe injury problems were a key factor in their intermittent progress. Probably stress too from the hairdryer treatment,
This summer, the management asked for and secured a hybrid training system. That's four sessions a week, two of them in the daytime, so virtually full-time training. Chester are a supporter-owned club with obvious funding limitations so the extra costs are funded by increased commercial income and a generous donation from benefactor Stuart Murphy. During 18-19, the Cymru-playing club were the only side in our League to go public on their playing budget. The £250,000 mentioned was considerably below the Divisional average.
Some of the squad moved on during the summer as their day jobs meant daytime training is unrealistic. Management also requested GPS vests which benefactor Stuart Murphy funded. The football club community trust also has plans for a £1.6 million training centre in partnership with the local authority. Again, its Murphy once more providing pump priming – £200,000 this time. Chester now turns over £1 million per season. That level puts them in the same bracket as Stockport so their commercial income and donated income must be massive.
Famously, Murphy promised £1 million to improve club infrastructure. A year on, the club don't yet have a working plan to spend that money. In reality, the dosh isn't really enough for such major improvements. Relaying the car park alone is estimated at £100,000 and rebuilding just the two club bars would cost more than a million. Furthermore, the club feel they need a longer lease before they significantly improve a rented stadium and there are two local authorities to charm. This could run for ages.
Just a few thoughts on the Cestrians squad. They've got a core of experienced campaigners, with 8 performers aged 30 or over. The preferred central defenders Grand and Livesey are jointly eligible for a pension with their combined age of 69. (That said, Gowling and Riley are marginally collectively older). Grand and Livesey were a defensive pairing at both Carlisle and Barrow so its not surprising they have a mutual understanding. I do wonder whether the older players will feel the strain of two games in three days? The management has five new additions in their squad. These include three full backs, a problem area last season. Chester supporters believe full back Kevin Roberts to be their key signing. There are a whole lot of Roberts going on at this club. In addition to full back Kevin Roberts, there is midfielder Gary Roberts and Theo Roberts is in goal. All very Welsh and fun for the commentators, who already have the challenge of broadcasting from England describing the action in another country. .
One home player who could be a headache is striker Akwasi Asante. He scored over 70 times for Solihull Moors and found the net regularly for his Welsh club until he was hamstrung by hamstring injuries. Asante is Dutch and was originally with the Birmingham City Bluenoses so feel free to hold that against him. He's currently starting from the bench but has scored two penalties this season.
There's a feeling of excitement among Chester supporters that this could be their season, a feeling by an unbeaten start There were three 1-1 draws, two of them including injury time levellers from the Cheshire club. During matchday 3, goals from Jackson and "big bloke up front" Waring earned them three points against Farsley. In their fifth game, Gloucester were hammered 4-0 with six foot five Waring scoring again and being an all-round general nuisance. With their opponents unbeaten in five, this game feels like a big challenge for the Bulls. However, maybe the Seals will be generous again. Their defenders have already scored 3 OG's this season. (Officially its 2 but even the Chester website acknowledges that Boston's goal credited to Jordan Thewlis was really an oggie.)
Getting There
By Road; CH1 4LT (195 miles return). Familiar A49/ A41/ A51 route. Follow the Chester Ring Road – Cheyney Road, Stadium Way. Right into Sealand Road then left into Bumpers Lane. Stadium at far end, next to the tip. Older supporters will recall Chester's old ground in Sealand Road with its big open terrace. I'm assured this is true – the local chippie was called Sealand Chips until one day the D dropped off the sign leaving just Seal an Chips…
By train: Station is 2.5 miles distant so a taxi is recommended. Despite being a Bank Holiday, there is a choice of trains both from the Shire and London Euston. The travelling time for both is virtually the same.
By coach: Visit Hereford Awaydays Facebook page for latest details. Seats are £20 each
By Simon Wright