After this afternoon's excellent away win at Blyth Spartans, to follow up a good performance at Guiseley in midweek, the Bulls now return to Edgar Street as they face Curzon Ashton. Here is Simon Wright's Talking Bull Preview ahead of the match set for Saturday, 2nd February.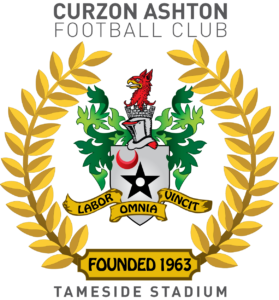 Curzon Ashton FC
Its that rare year when a home game coincides with my birthday.  The day when reduced admission at certain grounds (not the Street) and free prescriptions will be just a year away for me, together no doubt with much mickey-taking at my expense. Daunting to think I'm 3 years older than Curzon FC.
Our visitors came about as an amalgamation between two amateur clubs in 1963. They are based in Ashton Under Lyne which is surrounded by Manchester, Stockport and Oldham. They had to start their journey in the Manchester Amateur League so they've risen remarkably since. As recently as 2013, they'd yet to play at Step 3 level, never mind higher. Curzon remain a small club so for them to be competing at Step 2 for a fourth straight year is an impressive achievement.  Surviving on the second smallest gates in the Division – just 500 – is apparently no longer enough and their long-serving manager John Flanagan was sacked earlier this season.  
Curzon are just five points ahead of us in the Division despite having won 4 and drawn one of their last five, and that has to be a testament to a consistent set of results from the Bulls recently. However, Curzon don't concede many goals, having a meaner defence than 3 of the top seven.  Away from home, they've won a highly impressive seven times and drawn four times. Their record on the road is one of the best in the Division.  They rarely concede more than one goal away from home. Nuneaton's pair in mid-January was a rare blip as was Curzon's goal frenzy as they won 4-2. They quickly got back to form with a 1-0 victory at Chester.  Curzon are far weaker at home. They even lost at home to the club with the worst away record in the Division.
The Nash train twice a week like us on Tuesdays and Thursdays. Their new manager is Mark Bradshaw.   Quick Bradshaw Guide.  He was born in Ashton and participated in 400 games as a player, for mainly senior Non-League sides before moving into coaching.  He has two daughters, both of whom want a career in football. He's supported by an assistant, a coach and a sports analyst.  Bradshaw is a long-term club servant, having coached various young Curzon sides for 12 years.  Loyal service is a recurring theme for the Nash. The volunteer Groundsman joined in 2009 while club Chairman Harry Twanley is part of Curzon since its inception.  
 Five of the playing squad have served at least 4 years, mostly 5 or even 6 seasons including half of the back four and right there you've got part of the reason for Curzon's success. A hard core of loyal clubmen who set standards and provide continuity for club and support. Captain Jonathan Hunt has played over 250 games for the Nash.
At least 6 of their squad are homegrown. Quite an achievement to bring through so many young players in an area overloaded with greedy football clubs.  Curzon have only one loanee and he's from Stock City, according to the website. Yes, Stock City…  I like that.  
One other player to highlight is Mohammed Ali in midfield. No doubt he floats like a butterfly, but he is the slightly lesser known Dutch Mohammed Ali. Not a player you'll miss on the pitch, due to his volume of hair.   I've never seen a haggis in the wilds of Scotland, but I'm always imagined they look like Ali – a mass of hair covering a slim body.
Curzon were awarded the Community Club of the Year award by the FSF recently.  They've got a 3g pitch next to their stadium and every weekend, 1,000 children play on it. The club bar and café are open all weekend, every weekend.  The club have so many projects on the go working with adults in need of help and that for me is another way of measuring success. Winning Cups is marvellous but not even Hereford FC can win trophies every year.  There are other ways for clubs to demonstrate their value.