Hereford will be looking to bounce back after their FA Trophy defeat at the hands of the holders Brackley Town next Saturday. It's a vital clash against rock-bottom side Nuneaton Borough who currently lie 10 points adrift of safety.
Despite FC United of Manchester picking up three points with a victory over former league leaders Bradford Park Avenue, the Bulls retain a point margin above the safety line and have two games in hand. However, picking up a victory over Nuneaton still has to be achieved, and will not come without an improved display. Simon Wright looks ahead to the challenge.
Nuneaton Borough
Our visitors are on their second owner and third manager this season in what has become a car crash of a season for them. Its not their first time. The club has previously folded in both 1937 and 2007. Tough club to follow.
Lee Power, the previous owner, so badly wanted out that he effectively abandoned the club last summer. Nuneaton started their season with no directors, no organisation and a full-time squad of footballers. We saw umpteen examples of the shambles that was left behind when we visited back in August. No-one knew where the key was to open the gate to get the AwayDays coach into the car park. Programmes were being printed on the spot with different cover prices. No two officials could agree whether visitors could use the club bar. And the list just went on and on. Annoyingly, their team was far more organised with the ensuing goalless draw pleasing no-one at the time. The attendance that night of 895 is still their biggest of the season.
As of Jan 5, they've picked up only 5 points out of the last 36. There was a 1-1 home draw with Kiddy Harriers , a 2-1 victory at Darlington and a decent 1-1 at Southport when they conceded in the 93rd minute. They've let in 3 goals, 6 times in the last 12 matches. All too easy not to take them too seriously even though their away record is no worse than our own. Nuneaton earned 9 points on their travels so far but they have now lost their main striker, whose loan has ended. For main, read pretty much only striker.
On their fans forum, supporters were long resigned to relegation. Their ambitions are limited to trying to avoid a club record low of points – previous lowest was 29 and hoping there will be a club to support next season.
The latest manager is Jimmy Ginnelly. He's Nuneaton born and bred and resigned from his job as Barwell FC manager to take over. His day job is MD of a small Coventry based car parts company. Prior to that, he ran a pub for 11 years. In Jimmy's first game, they won 2-1 at Darlington which put our 2-2 there into perspective. Apparently, some very angry words were exchanged around the Darlo dugout during that defeat. But since then, Nuneaton have lost every game.
A few pointers about the visitors' squad:
Three of the Nuneaton defence were mainly ever present. The best known of the 3, Curtis Obeng, is doing a bit of a Greener, with regular suspensions giving him extra time out. He's picked up six yellows and two reds by early January. He retired in 2017 at the age of 28. Somehow, Nuneaton persuaded him to pull his boots back on. His defensive team mate Mike Calverley has now done penance for whatever crime he committed at Port Vale. He played over 30 games for Nuneaton. Thought he might be recalled in January, only to be told to stay for two more months. Nuneaton has just signed a left back Rhys Sharpe from Tamworth.
There's such a turnover in midfield that only 2 of their remaining players have played more than 8 times this season. Apparently, there is a Midlands club who keeps recruiting Nuneaton midfielders. Jordan Lussey ex-Chorley joined on December 31 and more signings are expected throughout January. Lussey set up Borough's goal on his debut v Telford.
Their loanee Dior Angus with 9 League and 5 goals returned to Port Vale. That is surely the final straw for Nuneaton. They can't replace those goals.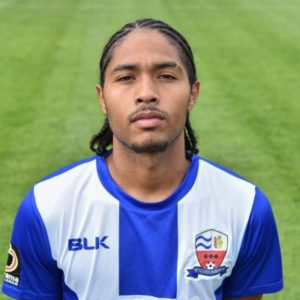 Striker Harry Panayiotou has featured in almost every game when he wasn't suspended (1 red, 6 yellow so far). He's only scored once but is a full international with St Kitts and Nevis, like our Theo. Harry was born in Leicester but his Mother is Kitia so fair enough, there is a clear link. He is the only registered striker left at Nuneaton though that will probably change.
A new striker arrived on a months' loan in early January. Yusifu Ceesay Ceesay arrived from Blackpool. He's born in Barcelona, aged 23, and now on his third loan spell this season. Ceeesay Ceesay scored on his debut at Southport.
Nuneaton come into the match on the back of a poor 2-4 home defeat at the hands of Curzon Ashton. Indeed, Borough have won only once in their last 17 matches.
Remembering our need to garner an average of 1.26 points per game, anything other than a Hereford win will be a shock. We managed 6 points from the Christmas and New Year foursome which is slightly above schedule. The next group of 4 games – Chorley, plus Nuneaton and the two Frozen North matches, we need to grab at least 5 again. Got one point against Chorley which was a cracking start but we need to follow that up.