The latest edition of Talking Bull, the Independent Hereford Football Club Supporters' Magazine, is OUT NOW!
Initial supplies have been placed in our Herefordshire retail stockists at Club Sport, South Street, Leominster and copies will also available for purchase from the Hereford Club Shop, Edgar Street from Friday morning.
Issue 111 of Talking Bull will go on sale outside the stadium for the first time this Saturday, 10th March 2018, ahead of the home Southern League Premier League match against King's Lynn Town so look out, and listen out, for our volunteer sales team outside the ground this weekend.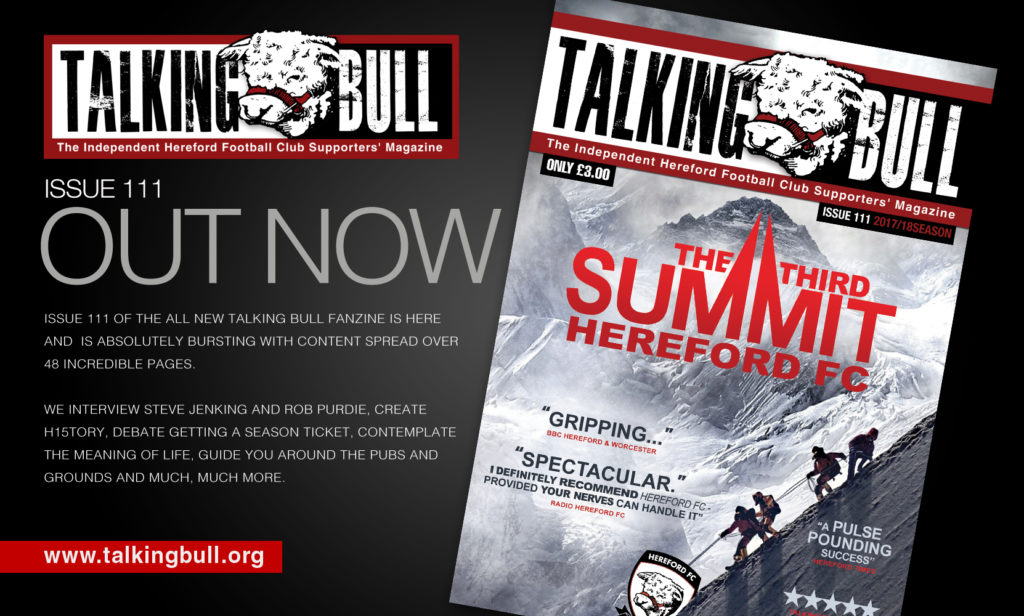 We've teamed up again with ABC Print and ALS design who continue to produce our award winning magazine again this season.
Issue 111 is another bumper 48-page edition packed with content, and here's a little taster of what's on offer, including an exclusive interview with both Assistant Manager Steve Jenkins, and the experienced playmaker Rob Purdie as we look ahead to the challenge of the run-in at the business end of the season.
Here's what you can expect to see in Saturday's fanzine – make sure you pick up a copy, or subscribe!
Steve Jenkins & Rob Purdie interview
A return to United
2-0 and you mucked it up!
My Favourite Player – Ben Smith
Creating History
Bring us another Kevin Sheedy
Plus,
Room 101
Season Ticket Debate
Nibbo's Favourite Photo
Slough Away Days
53 – The Meaning of Hereford Life
Talking Bull welcomes Jennison Myrie-Williams
We also bring you our comprehensive Ground and Good Pub Guides for our upcoming away matches, and we've the best from Stand magazine as they contemplate a 'Big 6' breakaway, and much, much more..
This issue of Talking Bull retails at the normal price of £3 but if you are unable to visit Edgar Street or watch Hereford 'away' games when the fanzine is often on sale, why not consider subscribing.
Subscriptions are on an eight-issue cycle, and you are reminded ahead the final date of this period, thereby ensuring you don't miss a copy of Talking Bull, the best fanzine in Non-League football.
Subscriptions are available NOW via our online shop Click here to subscribe to Talking Bull Talking Bull Online – Subscribe Here