The biggest, and best ever, issue of Talking Bull is hot off the press.
We take an in depth look at how the Bulls' have progressed to the top of the Midland Football League Premier Division table, and look forward to the FA Vase Final against Morpeth Town on Sunday, 22 May.
This is a limited edition issue of Talking Bull, the Independent Hereford Football Club Supporters' Magazine, and so when they're gone – they're gone!
Issue 104 is packed solid with content, including interviews with Peter Beadle, Pablo Haysham and John Mills, plus additional comment from within the Hereford camp as Jamie Willets, Ryan Green, Jimmy Oates, Matt Bishop and George Webb also look ahead to the final.
Bulls' boss Peter Beadle says, "The day will be an unbelievable one, and a once in a lifetime opportunity for some.
"I can't imagine how many fans will be there supporting Hereford. It's a massive thing to look forward to."
The legendary FA Cup hero, Ricky George, provides us with his personal take on Hereford making it through to the Wembley showpiece as he sheds 'Tears of Joy'. George insists, "It is, so far, a football fairytale."
Trevor Owens, the BBC Hereford & Worcester Sports Editor, looks back at an amazing season in his article – 'Actions speak louder than Words', while reporter Terry Goodwin is confident everyone will enjoy the Wembley experience.
A host of our regular contributors are included with Chris Jones, Shane Roberts, Bill Thomas, Frank Williams, Simon and Glynis Wright, plus Richard Tomkins all very much to the fore.
Jo Clements provides her unique take on the events unfolding at Edgar Street as her career in journalism means she has to follow Hereford from Los Angeles in the United States of America. But nothing she insists will stop her from being at Wembley Stadium come Sunday, 22 May.
Our Ground Guide details forthcoming MFL encounters at Coventry Sphinx and Shepshed Dynamo as well as the massive trip to Wembley Stadium and the famous arch.
Ian Mann prov
ides a Good Pub Guide for those games and provides a top-class outline of the best places to sample a drink in London which will prove to be valuable resource to all Hereford supporters when they travel to London next month.
Additionally, our special edition also includes our regular features, and letters section,  and there is a Talking Bull caption competition too, if you can tell us exactly what Bobby Moore is thinking as Hereford arrive at Wembley!
Copies have already been posted to all of our subscribers across the UK and right around the world including Australia, Belgium, France, Germany and the USA, ensuring our supporters are one of the first to get their hands on the fanzine.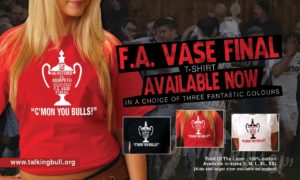 We also include a merchandise section for the first time, including our brand new FA Vase Final – Limited Edition T-Shirts which are now in stock in 3 fantastic colours and can be ordered via our online store.
As ever Talking Bull is in full colour throughout and is packed from cover to cover thanks to the many supporters who continue to contribute articles, features and cartoons.
This FA Vase Final commemorative edition will retail at £3.50, due to the extra cost of production and postage of the bumper 64-page special, but existing subscribers are not affected by the one-off increase!
If you are unable to visit Edgar Street ahead of the FA Vase Final, or reside outside of the UK, why not consider subscribing.
Our postal subscription rates are split geographically into 3 seperate categories; UK, European and Rest of the World.
Talking Bull subscriptions are based on an eight-issue cycle, however you will be advised prior to this period ending in order that you can renew.
Please state at the checkout which issue you'd like your subscription to start from and whether it is a new subscription or a re-subscription. Once you have signed up you will receive a reminder when your subscription is about to expire.
You will also need to include your full name, address and post-code when taking out an online subscription for a printed edition.
Once activated TB subscriptions are non refundable.
The normal cover price of a printed version is £2.50 with the magazine being sold inside and outside the ground on match days, with additional stocks being made available via the club shop.
Additional stockists across the county of Herefordshire include FIT retailers, 43 Widemarsh Street, Hereford, and the Club Sport store in South Street, Leominster.
Please get in touch with us if your business would like to take out advertising within our magazine, or alternatively you would like to stock the best fanzine in the West Midlands why not get in touch via our email address: editor@talkingbull.org
Subscriptions are available NOW via our online shop.