Following the Bulls' excellent victory over high-flying Fylde at Edgar Street last night, Josh Gowling must now prepare his side for the trip to Curzon Ashton.
Hereford have not enjoyed many fruitful trips to Tameside so will be hoping they can gain another positive result to put pressure on the divisional 'Top Ten'.
Simon Wright looks ahead to the game.
Gnashing about the Nash
A visit to Tameside to one of the semi-invisible members of our division. A club who measures success in different ways.
How do you measure success? Surely more than volume of trophies because there are few of those to go around and are often linked to income. Curzon Ashton are younger than some Hereford supporters, are surrounded by bigger clubs and yet on a small budget are starting their eight straight season in Step Two. Is that success? As Andy Mitten wrote in national Magazine "Survival in the league against far better supported and wealthier clubs is their measure of success. Greater Manchester can be proud of them, an example to every small football club how to engage with their community." In fairness to Curzon, they are not particularly noted for having a dodgy pitch (Hello Southport) or playing like a rugby union team (hello Southport again).
That around one thousand parents and children visit their well-appointed stadium every weekend to be involved with one of the numerous Curzon junior teams – that for me is success.
As Chairman Salkeld points out. "This club is run mainly by 10-15 volunteers including the board." There are no major shareholders, no benefactors. The club is run as a co-operative with a committee of 12. If you include Bradford's social enterprise model, a quarter of National League North clubs are fully supporter owned. And with 3 of those clubs in the top six, it's certainly food for thought. As Curzon are run as a mutual (a co-op), they are expected to provide a detailed breakdown of income and expenditure. Their latest accounts (2021) https://mutuals.fca.org.uk/Search/Society/14961 show a small loss of £8,000 and a players' wage and expenses bill of £154,000. Very rare to see a specific player figure in Step 2.
Curzon are constantly changing their side and they used to be more vulnerable than most to having their homegrown talent lured away. Equally, they provide a last chance for players released by other local clubs. When Altrincham went full time, there was a mass exodus of their older men who had "proper" jobs. Curzon recruited 3 of them, including striker Tom Peers who has an impressive 9 League or Cup goals by mid-October. And if you ever wondered what happened to Chester's giant substitute 6 foot 5 George Waring then wonder no more as he is a first team regular with the Nash. Generally speaking, Ashton's squad has an experienced look about it, so much so, the average age is nearly 30. According to various internet sources I've seen, the youngest player is 26 (albeit a few are apparently ageless) which doesn't seem to match the club ideals of growing their own talent. It's one blunt way to stop young talent leaving – don't include any in the first eleven.
Looks like the Nash didn't get the memo and are blatantly operating without any ex-Hereford players in their ranks. Someone should tip off the League. What is the "Nash?" Last letter of Curzon, first three of Ashton. I've heard more stimulating names and stronger historical links.
The manager is Adam Lakeland, in charge since October 2021. His first shirt untucked interview is here https://www.youtube.com/watch?v=rcoS4bbmhpg Adam is 37, a UEFA A licence holder and was previously assistant manager at Curzon 2012-2016.
At home they've
Lost to Banbury 1-2
Beat Kettering 1-0
Lost Chester 1-2
Drew Kings Lynn 1-1
Beat Scarborough 2-0
It's a typical mixed bag of results for the Tameside club, notorious for bouncing up and down tables. In 3 recent league and FA Cup matches against high flying Scarborough FC, Curzon impressively won twice and drew the other. No-one else have so comprehensively outplayed the men from the Coast. That's much to the chagrin of the Scarborough travel organiser Paul Stephen Adamson. I have to name-check Paul as he is such an enthusiastic listener to Radio Hereford podcasts and is keen for them to be even longer. The Nash went to reach the FA Cup first round and have EFL opposition at home.
Curzon also travelled to Kidderminster and beat them 2-0 (pause for lusty snigger) yet were defeated 2-1 by bottom club Bradford. (pause for shocked exclamation).
Much teeth gnashing about Hereford's grim record against Curzon. In five meetings home and away, the Bulls solitary victory came in the first ever match in 2018 when Harry White pinched the only goal in a tedious affair. Our most recent visit for a night match last season was a comfortable 3-0 home win.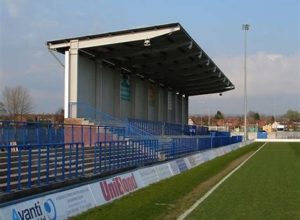 Admission is £15 for adults, £10 concessions with all U16s admitted free of charge.
You will be able to buy in advance online but equally can pay on the day for the same price.
The Nash are not well supported. Their early average of 450 was swelled by the 800 turning up for Chester. The lowest turnout was 278 against Kettering. Sounds like they need all the Bulls they can get. The ground is decent, car parking free, bar large and the food is among the best in the Division.
All the more reason to go to this match, on top of being alongside fine Hereford folk and supporting our team.