Simon Wright previews our upcoming FA Cup match at Hayes Lane against Bromley. Can Hereford win?
Shall we get the cliches out of the way first? "We'll be up for the cup." "There's no pressure on Hereford." "Its 11 v 11 on the day." "They will have to be on their game." Done. Admittedly Hereford doesn't have the monopoly on them.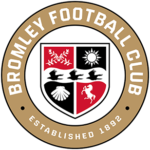 Being drawn at Bromley is one of the hardest FAC4QR draws possible for the Bulls. Away to a full-time Step One club, one unbeaten at home on their plastic pitch. The current holders of the FA Trophy, no less. Not to mention a tedium of a 350-mile return journey from the Shire, the middle match of five straight Saturday awaydays. Thank heavens the previous two have gone so well, especially the 4-2 victory at Boston. Terrific. Confidence booster.
Its Hereford's unique misfortune to have mainly Northern-of-the-Shire-based players to compete in what is deemed a Northern League and yet we are in the southern half of the FA Cup draw. Some of our squad will be travelling 10-12 hours. Again. Except for London-based Jethro Hanson. (Everyone back to his gaff afterwards?) Also lucking in are our normally starved of live action London Bulls – your presence will be very welcome at Hayes Lane.
Bromley FC do have a significant history. They were founded in 1892 and have won the FA Amateur Cup (forerunner of the Vase) three times, the first occasion being way back in 1910. Club aspirations have risen markedly this century when the Ravens reached Step 2 in 2007 and then Step one in 2015 where they have stayed ever since.Bromley are in nosebleed play-off territory, pitching in with some significant clubs and all this in average gates if 2,500.
They compete only due to the largesse of one man, Robin Stanton-Gleaves who is both the owner and solitary director. He owns a string of companies in various industries which is fortunate as Bromley are over £3 million in debt on their latest balance sheet (2021). If the Ravens are promoted this season, they have an expensive headache with their 4G pitch currently not being accepted in the EFL. Not only would they have to replace it the Ravens may also be liable to repay some grant aid.
Bromley's manager is Andy Woodman aka Woody. The Ravens are his second club as a manager, following his 438 games as a goalkeeper. Woody is best known for being a long-term chum of the England Gaffer, a friendship which dates back to their days in the same Crystal Palace squad in the 1990's and is detailed in a well-known book. Gareth Southgate is godfather to Andy's son Freddie, who keeps goal for Preston North End. Goalkeeping seems to run in family genes as the Wade family would confirm.
The Bromley squad is both large and impressive. As is the case more often than not with opposition ranks, there are two ex-Hereford men included. The better known is Chris Bush who was probably more large than impressive in his 42 appearances for Hereford United in what was the Conference Premier. The 6-foot 4-inch central defender is now 30 and has worked his way through most senior London area non-league clubs. Bush has racked up 120+ games for the Ravens though an earlier red card offence saw him suspended and then unable to regain a starting shirt. Club Captain and defender Byron Anthony was a United loanee back in 2010.
Ask a non-league buff to name the best two non-league strikers in the London and South-East and surely Michael Cheek and Adam Marriott would be shortlisted. Both are in the Ravens squad. Marriott has 6 goals this term while Cheek is a little behind his overall average this term of one goal every 2.5 games in his 300 National League appearances. They are formidable strikers.
One plus point for this fixture is that Hayes Lane is a new ground for everyone as the two clubs have never met. This is a decent sized ground with free car parking next door. We're likely to be segregated on the east Terrace which handily is behind the dugouts so advice can be offered to management in between sessions of "Guess today's goalkeeper." Prices are standard League prices of £20 adult, £15 concessions with youngsters aged 11 and below admitted free with a paying adult. These are pay in advance online tariffs, which rise by £2 on matchdays.
Am I feeling bullish? A positive result sounds a tall order but you really want to be there. Just in case.