Back again! Given that this is our sixth visit for league action and our previous one was only 4 games ago, there isn't much new to add to our store of knowledge.
At this point, I think we should imitate the Fawlty Towers sketch "don't mention the war."
Or in our case, "don't mention April."
"It slipped out once but I think I got away with it." So moving on rapidly.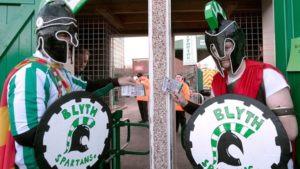 Blyth Spartans' last accounts show a deficit of £630k, currently the biggest red figure for any NLN club. Naturally, that's reflected in their recruitment. Lots of raw young players among their 16 contracted players aged 20 or 21 with diverse backgrounds. Such as Harrison Arnison whose two previous clubs were Aberystwyth and Sunshine Coast Wanderers (North of Brisbane, East coast of Australia). It's such an unlikely trio of places to play football, he must really like the seaside.
There is one familiar name in summer signing and former Bull Jack Bodenham. The central defender seems to heading further North with every move – he will be in Scotland next. As Bodenham was sent off on debut at Warrington, he may miss our game. Their "marquee" signing is striker JJ Hooper – his 15th club and he is only 29. He was Gloucester's marque signing last season only to become long term injured. Hooper has a decent pedigree with 110 games in league one or two.
If any overnighter is justified for the Bulls, its surely this one – the longest away trip of the season. Easing fatigue in a tiring week is the main benefit but the opportunity to have a couple of drinks and chat as a group, away from distractions, can be such an important bonding exercise. As long as its affordable, staying overnight is the right thing to do, and it's a statement too. Ambitious clubs in our division work hard to find a way to help their players. I'd like to think we are in that ambitious bracket. Kings Lynn, Darlington and Scarborough are known to have occasional stays. Scunthorpe and possibly South Shields might join them this term. Famously, Blyth never stay overnight anywhere.
Spartans results so far include a first day 4-2 home win over Gloucester. We can't read too much into this. I watched the highlights and it was a typical early season game where neither defence were settled. You do wonder about how Yan Klukowski's feels about Spartans. He was in charge for the end of season game we are not mentioning. New season, new club in Gloucester city but another immediate trip to Blyth and another heavy defeat. His diary might read Blyth Back to Back Batterings..
The Spartans went on to win their second game, 2-0 at Warrington before being beaten 1-0 at Scarborough.
Radio Hereford FC presenters at Blyth will be Frank Williams and Ian 'Jonah' Sandford. In the last 6 games that Ian has covered, the Bulls have lost all six without even scoring once. But don't worry, his pockets will be stuffed with lucky white heather and horseshoes. Clearly if we lose this game, we know exactly who to blame. No pressure, Ian.
Blyth Spartans V Hereford | Vanarama National League North | Blyth Spartans AFC Tickets (ktckts.com)
Simon Wright