The Hereford FC manager Pete Beadle is delighted he has secured an initial group of six players ahead of the 2015/16 season.
Joel Edwards and Ben Miller have both agreed terms with the Edgar Street club this week, joining Harvey Rivers, Dylan Bonella, Tony James and Max Kontic-Coveney as the clubs first ever signings.
Beadle feels he is right to remain patient, but spoke about the importance of the full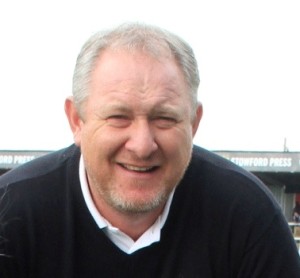 pre-season programme: "The club is gathering momentum, and hopefully we can now kick-on with the footballing side.
"It's going to be quite a tough regime through the pre-season as we've organised so many games in a short time.
"The first three sessions will be Tuesday, Thursday and Saturday before we go to Malvern on the 7th of July.
"Pretty much after that it's going to be training on a Thursday and straight into the rest of the pre-season games.
"The last week of pre-season leading up to our first Midland Football League game will be a designated training week."
Beadle will work alongside Matt Bishop in an effort to instil good discipline from the very first day the players arrive.
"We can be as professional as we want to be. We will do whatever we can within our budget, and in my opinion training is vitally important.
"That's where you practice. That's where we will try to put in place what we want from the players. It is imperative that everyone turns up for training.
"Supporters will probably see a number of triallists in our early pre-season games. We will change things around and have a look at a number of players and assess them.
"But by the time we get to the last three friendlies we will be pretty close to having the squad ready for the start of the season.
"I'm sure a lot of our players will have played at higher levels, right from Football League standard.
"The mix will vary. We've earmarked certain leaders and characters and will work to get them involved.
"If we get off to the right sort of start and we continue to progress as a football club, and as a team, then we will be on the right lines.
"For now what's important is developing a team that is going to challenge at this level."