The Hereford Hophead our resident Talking Bull Good Pub Guide Guru, aka Ian Mann, looks ahead to the weekend trip to Ashton-under-Lyne in Greater Manchester seeking out the best ales and pubs he can find. 
CURZON ASHTON, Saturday, 29th October.
I'll admit to never having heard of Curzon Ashton FC before they turfed Westfields out of the FA Cup in the 2016-17 season, before going on to lose 4-3 in a thrilling televised tie against AFC Wimbledon.
Curzon are based in Ashton-under-Lyne in Greater Manchester. Ashton town centre is around a fifteen-minute walk from the ground and is home to the Ash Tree, a Wetherspoons outlet situated near the town square and market hall at 9-11 Wellington Road, OL6 6DA. This sounds like one of the better examples of the chain with guest beers often coming from local(ish) breweries Moorhouses and Greenfield.
More traditional and basic is the Witchwood at 152 Old Street, OL6 7SQ. There are up to five regionally sourced beers, these often including Moorhouses, Wells, and, appropriately Wychwood. Real cider too. The pub has a separate music room and hosts live bands and DJs every weekend.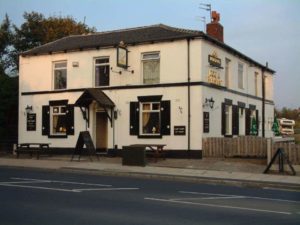 Closer to the ground is the Dog & Pheasant at 528 Oldham Road, Ashton, OL7 9PQ, a large pub serving up to six beers from the Marston's portfolio. It serves food but is primarily a local pub rather than a restaurant. A long standing GBG entry it sounds like an improvement on Marston's Nuneaton outlets. It's also the home of the delightfully named Bog Trotters hiking group!
The Dog & Pheasant is known locally as the Top Dog to distinguish it from the nearby Dog & Partridge at 275 Oldham Road, Ashton, OL7 9PT. This describes itself as a "carvery, bar and grill" and is accordingly much more food orientated. Reviews for this are generally good but make no mention of what beer is actually served! Simon tells me that the Top Dog is better for beer, the Dog & Partridge better for food.
Some have suggested a diversion to Stalybridge and the famous Station Buffet Bar on Platform 4, post code SK15 1RF. I remember this place with affection from visits to the 'other Celtic'. Nine handpumps dispense a range of beers from near and far and the place has expanded its menu since I last went following a kitchen refurb, although reviews suggest that the grub is nothing special. The beer is though, as is the place itself, which is quite magical with fine views over the moors from the platform, trains passing regularly, and a host of railway memorabilia inside. Definitely recommended. Enjoy!