In this additional feature for Talking Bull we look back affectionately at some of the music that has been played at Edgar Street via the PA Box over the years.
In recognition of the late great Don Cooke we are calling this archive "Don's Discs" and we are sure many, many Hereford supporters will recall his voice, as well as his music. Don operated the public address system at Edgar Street for the best part of 25 years.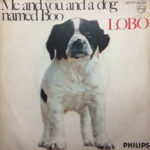 Here at Talking Bull we have received a number of requests from Hereford supporters to add Lobo to this archive. That is hardly surprising given the fact it was one of Dons' favourite tracks and he must have played it just before kick-off on many hundreds of occasions. Somehow, it got caught up in the emotion of the era as Hereford went on their famous cup run in 1972, and then onwards and upwards into the Football League.
The vocalist Roland Kent LaVoie had an international hit with Me and You And A Dog Named Boo soon after its release in June 1971 with the country and western style single reaching Number 4 in the UK charts, staying in the top 40 for 14 weeks.
First heard at pre-season friendly matches, the single had its first 'league' spin against Wimbledon ahead of the opening Southern League Premier Division fixture which attracted an impressive gate of 5,502. John Charles was still player-manager at that stage, until his resignation in October 1971.
In addition to the 'Giantkillers' run, Hereford under Colin Addison, finished runners-up to Chelmsford City that season despite having lost two fewer games. Consistency was the watchword that year, and after the cup run had ended United were only beaten once in their final eighteen games.
Alan Jones made the most appearances, featuring in 75 games. Dudley Tyler and Ken Mallender chalked up 72, whilst Billy Meadows ended as the Bulls' top-scorer with twenty-four goals, followed by Tony Gough with seventeen. Goalkeeper Fred Potter picked up the 'Player of the Year' Trophy.
If you have a favourite song you loved hearing at Edgar Street, let us know here at Talking Bull email us:
editor@talkingbull.org