Hereford Hero
PHIL STANT
It's the 8th of June, 1982. After clambering out of his trench, Phil Stant sat on the edge of a small cliff overlooking Fitzroy Cove puffing on a cigarette. Looking back over his shoulder he became swiftly aware of an air attack. Four Argentine Skyhawk aircraft swooped down towards Port Pleasant dropping bombs. One slammed into the landing ship Sir Tristram but failed to explode, however, Sir Galahad, a sister landing vessel, was struck by three bombs and was instantly set alight.  
Stant looked at Galahad and could hear the screams. Smoke poured from Tristram as the horrifying scene developed. Sea King helicopters arrived within minutes. Bright orange life rafts came over the side of the Galahad. He ran into the freezing water to pull the rafts onto the shoreline. Grabbing a stretcher he ran alongside a medic to the position where the helicopters were relaying casualties. The door opened and "out came a lad with his leg blown off just above the knee, with skin hanging everywhere. He was screaming in agony as we put him into a Land Rover. That was the day I grew up."
Philip Richard Stant was born in Bolton on 13th October 1962. His childhood was tough as his parents lived on the breadline, and split from each other when he was only seven years of age. However, he was able to follow the exploits of Bolton Wanderers at Burnden Park alongside his father who was a long-distance lorry driver. 
Stant hated school, other than when he was allowed outside to play football or cricket. He was first spotted as a goalkeeper and offered a trial with Bolton Boys. He even admitted to being thrown in a police cell after stealing a Ray Clemence style England shirt before an important match for Sharples High School but loved the fact he 'looked international class'.
After leaving secondary education with 5 CSE's his first job was as a general labourer at a timber merchants but wanted to gain a HGV licence, and thought joining the Army would provide him with that opportunity. After passing some written tests he signed up for the Royal Army Ordnance Corps and was soon introduced to Heartbreak Hill and plenty of fitness training, sometimes in a chemical warfare suit.
After volunteering to play for his training platoon and then his battalion side his football abilities began to surface. Initially disappointed he had been posted to the home of the British Army it was in fact to prove a blessing in disguise.
Stant starred for both his unit team in the local Army league and for the RAOC, to the extent that 4th Division side Aldershot offered him a trial when he was aged 18. He overslept and arrived at the ground late, but scored all six goals in a 6-0 win. The coach told him the Shots would be "in touch", but nothing happened.
Two months later came another chance, this time at 3rd Division Reading. Stant didn't know it then but he was to train with Neil Webb, Lawrie Sanchez and Kerry Dixon. His first goal came in the Football Combination for Reading against Chelsea at Stamford Bridge. He became a regular for Reading reserves and experienced playing at the likes of Fulham, West Ham, Crystal Palace, Watford and Swindon. But then came the Falklands War.
By the time he returned from the South Atlantic pre-season training at Elm Park was well underway, but Stant was determined to focus on football as he had begun to lose it. Post-traumatic stress had kicked in. He had wanted to get drunk every night. He was angry all the time. He wanted to fight people all the time. Football was the only way.
The goals continued to flow for Reading reserves and so he was called up for his Football League debut against Newport County, managed by former Hereford boss Colin Addison. Reading won 4-2 thanks to a Kerry Dixon hat-trick, but Stant had grabbed a goal on his debut and grabbed the press headlines. Another goal followed against Walsall in a 2-1 defeat, and an appearance on the ITV television show 'On the Ball' with Ian St John.
Maurice Evans, the Reading manager, offered Stant a one-year contract but, as he was now married with a child on the way, he felt he could not buy himself out of the security of the Army and a posting to Germany followed. Stant played in a non-league called Landesliga but kept getting sent-off whilst with Willich FC Moenchengladbach.
Two-and-a-half years into his posting came an unexpected move to link up with RAOC Explosive Ordnance Disposal, a bomb disposal unit in Hereford, working alongside 22 SAS. Matches for Army Hereford followed almost immediately, and John Newman invited him along to Edgar Street to play for the Bulls reserve side. Then in November 1986 Newman offered the striker a two-year professional contract and the £600 that was needed to 'buy' him out of the Army.
Stant made his debut for Hereford as a 24-year old substitute against Wrexham on 3rd December 1986, but his late introduction could not prevent United bowing out of the competition 1-0 at the first hurdle. His full start came 7 days later as Hereford entertained Newport County in the Freight Rover Trophy, replacing the injured Stewart Phillips.
It was a perfect start as Stant secured a hat-trick in a 4-0 win, but boss Newman warned about getting carried away saying, "He still has a lot to learn about the game and will want as much help as he can get." Mind you, the fans were hugely impressed, and thoroughly enjoyed his all-action style.
The 'new' striker made his league debut at Edgar Street against Cambridge United the following Saturday, 13th December 1986, and scored again. However, Hereford lost as two late Cambridge goals saw the visitors clinch a 3-2 victory. Worse was to follow as a trip to Halifax saw the Bulls slip to a 2-1 defeat with Stant substituted.
A Stewart Phillips hat-trick in a sensational 6-0 away win at Burnley kept Stant out of the frame. A bust-up with John Newman over his non-selection did not help Stant's cause, and he had to wait until the following campaign to make his real breakthrough.
The management reins at Edgar Street passed from John Newman to the ex-Nottingham Forest midfielder Ian Bowyer. Stant said, "I immediately felt sorry for John. He had given me the chance to play professional football. He had been like a father figure and I had the utmost respect for him, despite our arguments. I later realised it's best not to question the judgement of your manager."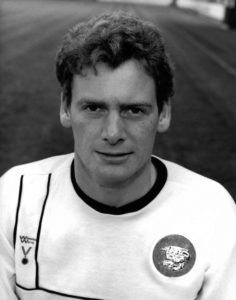 However, 'Bomber' as he was known, gave Stant a chance against Nottingham Forest in the second-leg of a Littlewoods Cup tie, and the marksman never looked back. Driven to impress Bowyer, and secure a new contract, he put Hereford in front only for a late Nigel Clough to pop up with an 88th minute leveller.
Stant was top-scorer for Hereford in the 1987/88 season, and again the following campaign when he bagged a very impressive 29 goals from 40 appearances, including hat-tricks against Rochdale and Peterborough. Indeed, alongside Paul McLoughlin the pair notched 42 of the teams 68 goals that season.
The striker's performances had begun to attract scouts from other clubs and having scored 14 goals before Christmas he was in good form. However, a £100,000 transfer bid from Scarborough caused a rift to develop between Stant and Peter Hill, David Vaughan and Ian Bowyer. Stant was up for a move, but the club hoped for a higher fee.
Stant 'blew a fuse' at Lincoln. He was sent-off after tangling with a defender, but was incensed as he felt the referee had been conned into handing him his first professional red-card. After being subjected to abuse whilst leaving the field Stant took out his frustrations on the dressing room door.
Resentment grew and at an away game at Grimsby on 15 April 1989 Stant exploded after being told he was to be substituted at half-time. He recalls "I threw a boot and it hit the wall and bounced up smashing a fluorescent tube into shreds. The glass went everywhere as did piles of dust which descended over the players".
Despite these incidents Stant was idolised by many Hereford fans and he completed the season with goals against Doncaster, Tranmere, York and Halifax. He was named in the PFA Divisional team and won the Adidas Golden Boot award. But the marksman was to hand in a transfer request at the end of the campaign.
Stant moved to Notts County in the summer of 1989 after a £175,000 transfer fee was accepted and so he teamed up once again with John Newman, who was assistant to Neil Warnock at Meadow Lane. But he played only 22 times for the Magpies (6 goals) and was loaned out to Blackpool, Lincoln and Huddersfield, prior to a £60,000 move to Fulham in February 1991.
Six months later he was on his travels again, scoring 26 times for Mansfield Town as they secured promotion from the 4th Division, and in December 1992 he was transferred to Cardiff City for a £100,000 fee. Stant once more became a cult hero, bagging a goal every other game for Cardiff, including a hat-trick in the 1993 Welsh Cup Final.
Spells at Bury and Lincoln were also successful, and he remained on the pro-scene until 2001 when he dropped into non-league with Worcester City. Indeed, Stant finally hung up his boots in 2004 – at the age of 42 –  after a periods as player-manager with Lincoln City, Gainsborough and Ilkeston Town.
Stant now works as the Youth Development Officer for the Football League helping league academies and centre of excellence across the Midlands.
Phil Stant – a genuine hero who is without doubt a footballing legend.
Keith Hall