Hereford Hero #2
BEN SMITH
One of the most popular and influential midfielders to have starred for Hereford over the last 20 years, Ben was a gifted playmaker who lit up many games for the Bulls. He arguably produced the best performances of his career whilst at Edgar Street, and was instrumental in Hereford's 2007/8 promotion winning campaign when the Bulls reached the giddy heights of League One.
Benjamin Peter Smith (born 23 November 1978) was brought up in Witham, Essex and by the age of nine had been spotted by Colchester United, with whom he trained for a year, before attracting interest from West Ham and Ipswich. Incredibly he was allowed to train with both clubs and, although his father was a lifelong Hammers fan, Ben felt he was more appreciated at Ipswich and so joined them alongside Kieron Dyer, Matthew Upson and goalkeeper Richard Wright.
At the age of 11, Arsenal offered Ben "schoolboy terms" and over the next five years he progressed through the age groups starting at Grays training centre, before eventually moving to the old Highbury Stadium and gaining a YTS contract.
His first professional contract coincided with the arrival of Bruce Rioch, who had taken over the managerial reins from George Graham, with Arsenal also parading Dennis Bergkamp from Inter-Milan for £7.5 million and David Platt from Sampdoria for £4.75 million as new signings. As a first-year YTS part of his duties meant he had to clean the boots of the England international goalkeeper David Seaman too. No pressure on the youngster Smith then!
In an effort to gain regular first-team football he linked up with Southend and Brentford, on extended trial periods, before finally succeeding at Reading in League One. Ben made his Football League debut at Maine Road on 3 May 1997 in a 3-2 defeat in front of a crowd of over 27,000. However, the expected breakthrough failed to materialise and so the 18-year old agreed to step down into the Conference with Yeovil in March 1998.
Smith played a key role in Yeovil's challenge for promotion to the Football League, thriving under the then Glovers boss Colin Addison before being tempted to Southend United in June 2001 after having made 144 appearances, and scoring 18 goals for Yeovil. Ciderspace, an unofficial website who cover the club, said at the time, "Ben can be an extremely frustrating player to watch, but at the same time is blessed with more natural talent than most players. When motivated he is good enough to play at a much higher level".
Apart from the financial benefit of a summer contract, which did not apply in the Conference, Smith says in hindsight that his move to Southend was "an unmitigated disaster". Early injuries including a cartilage tear and chipped bone in his foot which ruled Ben out for the whole season. Fortunately, the Hereford scout Ron Jukes had become aware of his situation and set up a meeting with the Bulls boss Graham Turner and a one-year deal was secured.
However, disaster struck yet again in pre-season. This time Ben fell awkwardly in a friendly at Bromsgrove Rovers, levering his shoulder out of its socket. Standing only a few yards away from the incident I can recall the screams of pain vividly. Not only had this been a dislocation but he had damaged nerves in the right deltoid and would be out of action for at least three months!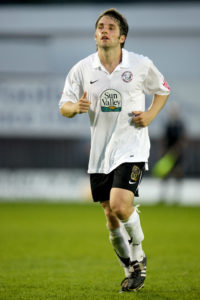 Smith eventually made his debut for Hereford on 30 November 2002 at Edgar Street in a comprehensive 4-0 win over Barnet. Indeed, Ben scored, but Steve Guinan grabbed the headlines securing a hat-trick. The midfielder was to follow this up with another two goals in the next match – a thumping 5-0 win over Woking. Finally, he was enjoying regular first-team football and his performances began to reflect that. Hereford finished 6th in the Conference in his first season with the Bulls, and despite the early injury the playmaker chalked up 25 appearances, and 6 goals.
By this time Hereford were on an upward curve, with significant strengthening being made to the squad. Smith signed a new deal, and although as fans we didn't realise it at the time, the 2003/4 season was to prove one of the most entertaining the Edgar Street crowd has ever seen. The "football with a smile" philosophy transformed Hereford.
Smith relished the freedom he was awarded in midfield, Ryan Green settled in at full-back. Matt Baker and Tony James gave everything to the cause, whilst Steve Guinan top-scored with 25 league goals, David Brown chipped in with another fourteen. Add to that the emerging talents of Paul Parry, Tamika Mkandawire, and Rob Purdie plus Michael Rose, Jamie Pitman and Andy Tretton.
Hereford with Smith orchestrating moves from midfield played some scintillating football that broke record-after-record. United scored 103 goals for the first time since the 1964/65 season and had crowds flocking to Edgar Street –  average attendances reached 3,700. Graham Turner's side averaged almost three goals a game away from home too, beating Dagenham & Redbridge 9-0 in front of Sky TV cameras on 27 February 2004. As it turned out Smith missed that match after dislocating his shoulder again at Gravesend a fortnight previously!
Smith was out for the rest of the season and Hereford ended on 91 points – just one behind champions Chester. More drama followed as the Bulls lost 4-2 on penalties to Aldershot in the play-offs after referee Andy Woolmer sent off defender Tretton just 21 minutes into the Edgar Street tie.
Smith alongside Guinan, Rose and Baker were snapped up by Football League clubs that summer, with Ben making another "career error" after pressure from agents led to his move up the A49 to Shrewsbury. "I still regret that decision" insists Smith to this day. Jimmy Quinn and then Gary Peters were his bosses at the Shrews. A series of disagreements over tactics, style and commitment best sums up his time there, plus a shoulder dislocation for the third time in his career.
He joined Weymouth, then in the Conference South, in January 2006 on an incredible £1,000 per week and played a significant role in their title triumph under Garry Hill. In the Terras' first Conference match for 17 years he scored against Tamworth and as captain he went on to play in every game up until the end of the year. But financial meltdown was not far away. The entire Weymouth squad were transfer-listed, and he re-joined Hereford for a transfer fee of £20,000 on 25 January 2007. This became the first transfer fee the Bulls had paid another club since the signing of Neil Grayson ten years earlier.
The midfielder returned to Edgar Street into a team that had gained promotion into the Football League without him. However, he was quick to respond to the challenge and inspired his colleagues immediately as the Bulls beat Notts County 3-2. He went on to play in every remaining match of the season; scoring in a 2-0 home win over Barnet and earning the captain's armband on several occasions.
Smith then led Hereford to promotion to League One in another memorable season, including a personal highlight when he achieved a double over Shrewsbury Town, led by Gary Peters. The euphoria ended the next season though as Hereford struggled against the likes of Leicester City, Leeds United, Peterborough, MK Dons, Millwall and Huddersfield. Despite this Ben remained a regular at the heart of the Bulls midfield and during his two and a half-year second stint at Edgar Street featured in 99 league games, scoring seven times.
Alongside former Hereford teammate Karl Broadhurst, Smith linked up with Crawley Town in the summer of 2009, becoming the club's second top scorer with 7 goals in his first season, then managed by the infamous Steve Evans. Smith enjoyed FA Cup success with Crawley and played at Old Trafford against Manchester United on 19 February 2011, in a 5th Round tie, although his side went down to a narrow 1-0 defeat.
Smith linked up with Kettering Town on loan in September 2011, before a three-month spell at Aldershot. He then joined AFC Sudbury on a one-year deal in August 2012, but played in only 9 games before moving to Thurrock in the Conference South. Injuries continued to adversely affect his fitness and after a spell a Malton & Tiptree he retired as a player, becoming a teacher at Maltings Academy in Essex having earned a degree in business management. However, football has now taken centre stage once more as Ben is currently the Head U16 coach at Brighton & Hove Albion.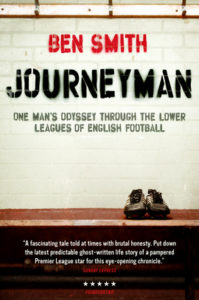 Ben has published a book; "Journeyman: One Man's Odyssey through the lower leagues of English Football" in 2015, and this provides a terrific insight into "a multitude of characters, from maverick teammates to managers with lunatic tendencies". If you have not read it yet, I recommend you go and buy a copy.
I have had the pleasure of working alongside Ben on several occasions in the commentary box and I must admit I especially enjoyed compering "An Audience with Ben Smith" last summer. Always strong-willed and competitive he admitted, "I work best when someone tells me I can't do something, especially if they seem pretty adamant they're right".
He will always be a favourite at Edgar Street, playing with the style and panache I love to see, and as far as I am concerned he always be a legend here.
Keith Hall