Here at Talking Bull we are continuing to build up our archive which details the careers of former Hereford players, managers and coaches. This time we cast our eye over a thoroughly dedicated defender who went on to manage Hereford United. 
Hereford Hero.
JOHN LAYTON.
At Edgar Street we have seen a number of "no-nonsense" defenders down the years, but few come close to the dedication shown by first John Layton (senior), and then John Layton (junior) who is the feature of our Hereford hero article today.
Following in the footsteps of his father, who is holder of the Bulls all-time appearance record, John (born in Hereford 29 June 1951) began his career with local side Westfields, before joining Gloucester City and Kidderminster Harriers, from whom he linked up with Hereford on a part-time basis in September 1974.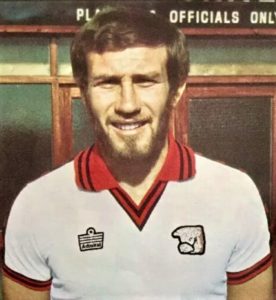 John Henry Layton initially combined football with his job as a bricklayer, making his senior debut for the side in a 1-0 away League cup win at Gay Meadow against Shrewsbury Town on 27 August 1974, marking Chic Bates out of a game in which Terry Paine scored the winner, after a Steve Ritchie effort had come back off a post. The centre-half only had to wait 8 more days for his Football League debut, but the Bulls suffered a 1-0 home defeat to Watford in front of an Edgar Street crowd of 7,357.
John Sillett was at this time assembling a squad that was to lift the Third Division Championship a season later, and so Layton had competition at the back. Billy Tucker, Dave Rylands, Peter Morgan and Mick McLaughlin were all utilised and, so by the end of the 1974/75 season, John had performed well having chalked up 23 appearances in all competitions, scoring once in a superb 2-2 draw at Selhurst Park against Crystal Palace in front of almost 17,000 fans. Club historian, Ron Parrott, considers the goal as one of his personal favourites describing it as "a late and fearless diving header".
Consistency earned John a full-time contract and a "new" central defensive partner in veteran John Galley. Indeed, the ex-Bristol City and Nottingham Forest striker had scored 6 goals for Hereford alongside Dixie McNeil, before a pre-season experiment at centre-back was to prove to be a master-stroke. Watching from the Merton Meadow terracing later in that season I recall hearing the defensive partnership described as "the sorcerer and his apprentice" as Hereford climbed to the top-of-the-table.
John was a superb header of the ball and chipped in with 8 goals in the 1975/76 title winning side. His first ever goal at Edgar Street arrived on 11 October 1975 in a tremendous 2-0 win over rivals Wrexham, before he managed to score against Crystal Palace for the second-season running. This time BBC cameras were at Selhurst Park to witness a floated Terry Paine cross powerfully headed home by Layton, thus inspiring a fightback from a two-goal deficit. Dudley Tyler slotted in a deserved equaliser with 10 minutes left in a pulsating encounter with 20,232 in attendance.
Another highlight came at Priestfield, against Gillingham, on 6 April 1976. Trailing 3-1 early in the second half, the Bulls showed all the qualities that had made them league leaders in an astonishing fightback. Steve Davey and McNeil forced it back to 3-3, before Layton bagged the winner with eight minutes left on the clock. Hereford earned a standing ovation at the end of 90 minutes of memorable football.
The next season saw Layton facing up to the likes of George Best, Rodney Marsh, John Richards, Peter Osgood, Mick Channon, Tony Woodcock and Laurie Cunningham, in a tough campaign. Although the Bulls found their feet in the final couple of months of their one and only Second Division campaign, United were relegated back to the Third Division ending up just three points from safety.
John spent six seasons at Edgar Street and became a firm favourite with fans because of his commitment and never-say-die attitude. During his time with Hereford, John made a total of 238 first-team appearances and scored 19 goals, with many of these being near-post headers. After leaving Edgar Street, John played for Gloucester City again, Trowbridge Town, Newport County, Worcester City before returning full-circle, ending his playing career at Westfields.
John then went on to cut his management teeth with Gloucester City, and after spells at Edgar Street as youth team coach and assistant manager, John took over as caretaker manager in September 1994, following the dismissal of Greg Downs.
He took over the full reins in November 1994, but despite learning quickly and producing an improving sequence of results, he was to leave at the end of his first season in charge, with Graham Turner taking over as Director of Football. As a UEFA 'A' licence holder, John went on to coach the Pakistan national football team from 1999 to 2002, before a spell with Hurriyya in the Maldives in 2003, and Lower Hutt City in New Zealand in 2005.
John also had a spell in charge of Westfields in 2008, alongside Jon Hill, but could not lift the city-based side out of the Midland Football Alliance as it was then known, before eventually returning to Edgar Street to take over as youth development manager in 2011.
We spoke to Ron Parrott recently, who said, "I've always admired John as a man and as a player. I knew the family well and back in the seventies I used to play darts regularly with his dad at the Cotterell Arms.
"He was a no-nonsense central defender and in true Norman Hunter style, he was a hard man but scrupulously fair, and notoriously (perhaps I should say allegedly) had a row with John Sillett when asked to do a "hatchet job" on a not-to-be-named Third Division striker".
"John (senior) was a real gentleman and one of the nicest men that you could ever wish to meet, and John (junior) clearly inherited these characteristics and he too, is a really nice guy, although these traits disappeared when he took to the field".
John is due to attend a reunion on Tuesday, 18th June which will be held at Yates' in Hereford, hosted by Matt Healey, alongside a host of former Hereford United stars – focussing on the period between 1988 and 1992.
By Keith Hall
Images: Ron Parrott Archive