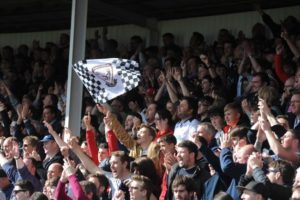 Existing Hereford FC season ticket holders can renew from 13th May via the club shop, whilst the early-bird offers will be available to non existing holders from 3rd June online. Face-to-face sales from the club shop begin on the 7th June.
In summary, for the 2019/20 campaign concessionary season ticket prices have been reduced by £20 in total, whilst adult season ticket prices have been increased by £20. 
Match-day prices have increased by £1 for adults to £16 per game for all seated areas (up from £15) whilst adult terrace on-the-day prices have also increased by a £1 to £14 (up from £13).
Concessionary on-the-day prices at the turnstiles remain the same as this season. £14 for a seat, £12 on the terrace.
An adult season-ticket for a seat in the Merton Grandstand or Len Weston Grandstand will now cost, on an early bird deal, £261.50 (up from £241.50 this season) whilst a concessionary seated season ticket now costs £200.50 (on an early-bird deal) which is down from £220.50 this season.
Decent savings have been made available on the club's Early Bird discount scheme provided supporters purchase their tickets before 1st July.
Children under the age of 5 continue to be allowed free admittance, Under 16's £2, whilst Junior Bull members can watch matches for just £1.
TERRACE
EARLY
BIRD
PRICE
AFTER 1st
JULY
MAXIMUM
SAVING
EARLY BIRD
PRICE PER
GAME
Adult
£230
£251
£64
£10.95
Concession
£169
£190
£104
£8.04
16-18
£84
£105
£63
£4.00
U16
£30
£30
£12
£1.43
SEATING
EARLY
BIRD
PRICE
AFTER 1st
JULY
MAXIMUM
SAVING
EARLY BIRD
PRICE PER
GAME
Adult
£261.50
£293
£74.50
£12.45
Concession
£200.50
£232
£93.50
£9.54
16-18
£100
£126
£68
£4.70
U16
£30
£40
£12
£1.43
Family Ticket***
£540
£610
£174
£25.72
*Family Ticket: Two Adult, Two Children. Variations available on request
**Family Ticket is available in Block A only
***Variations – Two Adult & One Child, One Adult & Two Children, One Adult & One Child
EXECUTIVE CLUB
EARLY
BIRD
PRICE
AFTER 1st
JULY
MAXIMUM
SAVING
EARLY BIRD
PRICE PER
GAME
Adult
£470
£470
£76
£22.38
Concession
£470
£470
£76
£22.38
U16*
£120
£120
£132
£5.71
Couples Ticket
£900
£900
£192
£42.86
*U16s must be accompanied by a full paying adult
SALES DATES
SEASON TICKET
TYPE
ON SALE DATES
SALES METHOD
Season Ticket
Renewals
13/05/2019 – 01/07/2019
Club Shop
Early Bird Season
Tickets
03/06/2019 – 07/06/2019
Online Only
Early Bird Season
Tickets
07/06/19 – 01/07/2019
Club Shop & Online
Season
Tickets
01/07/2019 – 10/08/19
Club Shop & Online
In relation to general matchday admission prices, although adults will be paying £1 more in 2019/20, prices for every other age group will remain the same as in the 2018/19 season.
MATCHDAY PRICES
SEATING
MERTON &
LEN WESTON
TERRACE
MEADOW END &
LEN WESTON
Adult
£16
£14
Concession
£14
£12
16-18
£8
£7
U16
£2
£2
Junior Bull
£1
£1
U5
£FOC
£FOC
Speaking about the announcement of the pricing structure for next season, the club's General Manager, James Watts, said:
'We are pleased with the structure we have come up with for 2019/20 as we feel it is fair to everyone and offers the opportunity for fans to make significant savings through the Early Bird offers, the popular family tickets and the couples tickets in the Executive Club.
'While we understand that buying a season ticket is a significant investment for any fan, we would encourage people to buy tickets as soon as they possibly can because not only does this secure the best reduction in price, it also allows the club to plan our budgets more accurately looking ahead.
'The Board has increased the investment in the playing squad year on year and next season is going to be no different. Hopefully the recent signing of Rowan Liburd demonstrates to fans that everyone here wants to be competing at the top end of the table and therefore, the more season tickets we sell, the more money there is available for recruitment during the summer.
'We are particularly pleased that once again we can keep the prices for Under 16s to less than £2 per game whether buying a season ticket, or paying on the day. We all know that continuing to attract as many young supporters as possible is absolutely vital if the club is to continue to make the progress we all want it to.'