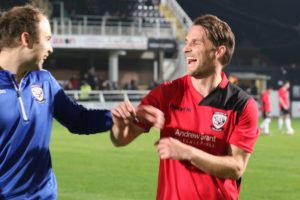 In the build up to the Rob Purdie Testimonial match scheduled for Sunday 12th May, the Hereford FC and Hereford United legend has been looking back over his time at Edgar Street.
There have been plenty of highs and lows in his career, most of which was during the period when Graham Turner managed the Bulls. Purdie explained what it was like playing for Hereford United at that time.
"I haven't got a bad word to say about Graham. He had a knack of getting the players to respect what he wanted them to do, and that is why he had so much success with players that perhaps other teams wouldn't sign. Hereford is a little isolated and so building a competitive squad can be difficult. But to do so, and enjoy so much success shows just what a good job he did.
"He can come across as unapproachable at times, but once you gain his respect then he's brilliant.
"I've talked to him recently and we laughed at some of the old stories, and it's great to still have that rapport with him".
Despite playing regularly for Hereford, the former Leicester City apprentice moved to Darlington in June 2007, a transfer which surprised many.
"I was offered another deal here at Edgar Street at the time, but I felt I might go a little stale and felt I needed a new challenge.
"I had two years there but the club went into administration and the manager took me to Oldham when he left. That gave me my first chance in League One.
"However, I got injured on the first day of pre-season and had three operations in around 10 months so I was sidelined for a long, long time. I got myself fit but the chairman there said you're on the transfer list – we don't want you anymore -we've got a new manager Paul Dickov coming in.
"So luckily for me not having played for so long meant when Jamie Pitman approached me to come back to Hereford, when he was in charge, I agreed after I'd proved my fitness in a trial match with some other potential signings. Luckily, he gave me a chance and got me back on track".
Ahead of the Bulls' first season as Hereford FC, Purdie returned to Edgar Street in a final career move, after having previously turned part-time with Tamworth in the Conference North.
"It was a major step down into the Midland Football League, but I had been in the Conference North with Tamworth as a part-time player, and at the time built up a second career as a personal trainer. But I had another bad injury, and I'd lost a bit of love for football. I'd seen things in the Conference where some players had big egos and yet had done little in their careers, and some of the attitudes I came across disappointed me.
"Pete Beadle rang me and I needed to play somewhere where I felt at home and yet drive me on to achieve something. So, the move came at a perfect time for me in a way. We didn't know how it was going to work out and when I joined Hereford FC we only had 8 players signed on.
"Our first six games were a bit of an eye-opener until we gelled and then the three years of success was brilliant after that.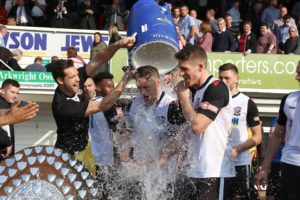 "When I signed for Hereford FC I thought this period won't really define my career because of the level we're playing at. I remember saying to players like John Mills – you might be scoring 50 goals in this league – but wouldn't you prefer to be scoring 10 goals in the Football League?
"However, the team spirit we engendered here was exceptional, and the last three years of my career were really enjoyable. It didn't matter to me what league we were playing in as I had such a good time.
"I tried to gee everybody up and I loved those last few years".
Tickets for the Rob Purdie Testimonial will be on-sale ahead of the Bulls' final home Vanarama National League North match of the season against Boston United tomorrow via the Junior Bulls gazebo, or alternatively tickets can be purchased on-line.
Tickets for the game which will kick-off at 1:30pm are priced at:
£8 Adult
£6 Concession
£3 Child
Tickets and further information can be purchased online now.
Images courtesy of Steve Niblett