The Hitchin Town secretary Roy Izzard has outlined the problems his club has faced this week, with abnormal rainfall causing the postponement of games against Hereford.
In a club statement he insisted, "This has been the worst winter weather wise for many years and this has meant we have had an abnormally high number of  games postponed. This week has been particularly frustrating with the Hereford game being postponed twice and the weather forecast being spectacularly wrong on Thursday when torrential rain fell on what was supposed to be a dry morning. Postponements  cause all sorts of problems that I will try and explain.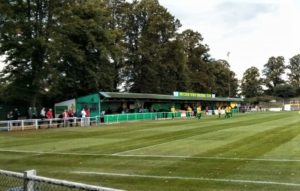 "The person most affected is fixture secretary Chris Newbold who has the unenvious job of having to rearrange the postponed games. This is not as easy as you would think as the league insist the postponed game has to be rearranged within a specific time period. On top of that he needs to find a date that suits not just Hitchin but the opposition as well. This is often difficult especially this season where so many games have been called off which means while we may have a free midweek our opponents do not. There is also the fact that there is a priority order for fixtures to further complicate matters and an example of this is the League Cup having priority over a League game.
"Somehow Chris has retained his sanity and got all the games rearranged  He explained how the Hereford game was switched from Monday to Thursday (only for the weather to again intervene) on our Fan's Forum and this shows the difficulties he has face.
"When a game is in doubt I have to get a local referee of the correct standard to carry out a pitch inspection. I liaise with the opposition secretary and our ground staff and the timing of the inspection will often be based around when the opposition coach is due to leave. I then have to go to the ground to meet the referee for the inspection and if after consultation with the match referee he decides the game should be postponed a whole raft of phone calls have to be made to let key personnel know the outcome. I can then return to work.
"Postponements cause havoc for our programme editor Mick Docking. He has long since sent the printers the programme information before a game is postponed and there are several batches of programmes that were printed but with no game to sell them. Wasted effort from Mick and a financial hit to the club. 
"Likewise our ground staff have often done a great deal of work in preparing the pitch only for the rain to thwart their efforts. When it is as wet as it has been recently they have to choose the moments when they are able to work on the pitch as it is often too wet to do anything useful.
"Finally if a number of consecutive home games are postponed there is a resulting effect on cash flow and it can be the case that if the rearranged dates mean a number of consecutive home games close together supporters may not be able to afford to attend them all so again there is a financial consequence. We had even hired in extra toilets for the Hereford game and this cost must still be paid even though they were not used.
"So if you see me praying for a dry spell of weather you now know why!"