With victory at Biggleswade Town on Tuesday evening, Hereford FC secured an amazing third league title in a row, but supporters are already looking ahead to the prospect of football in the Vanarama National League, either North or South. What will it be like? Simon Wright provides Talking Bull with his unique take on what Bulls fans might encounter…
Laidback Saturday afternoons in some never-before-visited Southern market town. Bar open, opposition team in familiar full retreat, locals quietly affable, genuinely pleased to see many visitors in their ground. Cover and seats for all, generally a handy car park to hand. Sporadic vocals – always in support of the visitors. Cameras to hand to capture action and people. Such are our Awaydays as Hereford FC. There's been a few more unnecessary hassles this term, most notably in the Thames Valley area or Dorset where the Police continue to make a simple process unnecessarily complicated, but in the main, peaceful co-existence works well. The warmth at poor little Dunstable, the summer fete atmosphere at Kings Langley, and the wedding at St Neots remain lasting memories of a season fully enjoyed. So many sides in our Step 3 are "living the dream," simply enjoying their comparatively lofty status. Few have any serious ambition of promotion. The financial gap is hard to cross.
For Step 2 is another, more serious world. Bigger, harder, meaner ..and that's just the stewards!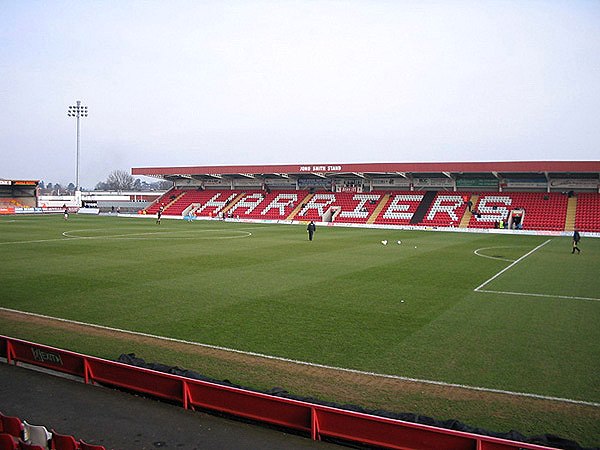 But seriously, our following will really feel the difference. Segregation is the norm, not the exception, as we've discovered every time we've played a Conference North or South side competitively this season. Telford even separated us in pre-season. Segregation generally means we are situated in the least appealing part of the ground with grotty portaloos and bottles of Carlsberg at inflated prices. More positively, a Grade B grading is required in Step 2, which requires a minimum of 3,000 capacity, with potential for at least 1,000 more. That's a headache for both Kettering or Slough, if they make the cut, especially as neither side own their grounds.
I understand there are far stricter rules on alcohol at this level, so much so that many Dulwich Hamlet supporters are genuinely ambivalent about promotion as it would impact on their match routine.
Expect media restrictions, particularly if BT agree to cover some Step 2 matches next season. Hereford Goals will surely be limited in what is permitted and when. There may also be a clampdown on the use of private video footage, most likely via social media sites.
Don't be fooled by the Step 2 sides we've seen this season. Most are strugglers, others are mid-table. The stronger outfits will have classier players, with a burning desire to win. Step 2 players regularly move up into professional football so take their labours very seriously. Goals are harder to find against more organised defences. "Twenty a season" goalscorers in Step 2 can be counted on the fingers of one hand.  Step 2 sides all enjoy better support than we're used to. Our travelling support will be outnumbered virtually everywhere – a world away from the village sides of Step 5.
And the travelling, gee whiz the travelling!
Conference North or South, either way will be big miles. You'll recall the laments about the mileage "all the way to Kings Lynn." There are 8 longer trips in Conference South if that's where we are placed. Higher travelling costs on top of higher admission charges can be a daunting combination. Still, away victories will be hard earned and perhaps more satisfying for all that.
We're on the way to somewhere. We've no idea where we are going, but we're going to enjoy it!