Simon Wright previews the Bulls' back-to-back festive matches against the League Champions elect.
Hereford versus Kidderminster is not a bared-teeth, must-win-or-else derby.  It's too recent, too Johnny Come Lately-ish. Bar an FA Cup match in 1948, our paths have really only crossed in the last ten years. Kiddy are not exactly Cardiff or Shrewsbury, providing local derbies with a must-win or the cat gets kicked edge but it is the best we have and comes with the simple pleasure of a nearby away match.
For all the recent banter about Kidderminster being "massive" this is their eighth straight season in National League North.  Being full time and well supported at this level, that is not a great stat for them.  Every time they get close to going up, I go to their playoff game (always singular) and they lose despite being the bookies favourite every time.  They ought to pay me to stay away.
But more seriously we should not forget the support of the Kidderminster Harriers Independent Trust during the season we don't talk about. Remember Kidderminster v Welling and Hereford? There was a very public and clear message broadcast on BT Sport that night during our protest including probably the longest non-stop football chant I've ever participated in. Over six minutes without a pause.  That's very hard on the hands. My biggest takeaway that night was how much Hereford supporters can achieve if we all pull together with such single-minded determination.  Who knows when we might need that spirit again?
As the other full-time NLN clubs jostle for elusive promotion spots, Kidderminster Harriers have chosen another way. A pathway of such remarkable generosity to visiting clubs that cynics believe Harriers were eager to call off home fixtures to avoid more giveaways. Harriers have lost 5 of their last 6 home games. Despite that, their attendances remain very steady with their lowest turnout being 1,931 and they have overtaken Hereford as the Division's best supported.
These are strange times for the Worcestershire club.
No-one imagined that two Harriers defenders would outscore Amari Morgan-Smith or Tom Owen-Evans at Christmas. Admittedly made easier as neither attacker has found the net yet.

Or that last seasons' top scorer Ashley Hemmings has 3 goals by Boxing Day.  

Or that the Bulls would score more than Harriers despite playing fewer games.

Or that Krystian Pearce who had a mixed time at the Street would be a near ever present for Harriers.
Truth is, like ourselves, Harriers are beset by injuries. Look at their line-up for the recent televised home game with Chester.   No top scorer Freemantle, No big signing Ceesay, No key defender Penny.  No Pearce. Their other big signing TOE, on the bench.
Loan reinforcements arrived a few weeks back and all are being pressed into service. Tom Billson, a keeper from Coventry (just how many keepers do City have?) midfielder Paddy Mcloughlin from York and defender Reiss McNally from Solihull. McNally is a former Hereford loanee of course, one of those unfortunates doomed to be loaned out every 3 months or so until their contract runs out.
History shows the home club is usually victorious in the Shire derby. Hereford FC always beat the Harriers in the League at home.  Last time Kiddy won a league game at Edgar Street was back in 2012.  Conversely, at Aggborough, Hereford FC are still wating for their first win.  Yet the pre-ice-age form notes that both sides winning away more often than at home so who knows?
The Harriers are owned by Richard Lane, a Halesowen-based IT business entrepreneur.  Lane is one of two club directors, which makes decision-making quick if not necessarily fully considered in the round. A duopoly reduces turnover. 39 Harriers directors have resigned in the last 12 years, that's over 3 per season.   There is no input or board members selected by the Supporters Trust who remain minority shareholders.
Club finances are mixed.  Kiddy own the ground which they value at £1.3 million and of course their FA Cup run last season netted them around £500,000.  They were the nearly club but there can only be one Giantkillers.  Against that income surge is a whacking great loss in the previous season while in addition the club owed someone £750,000, presumably the owner.   When you factor in the owners' determination to update the club floodlights and improve their training ground, the manager is unlikely to have a big pot of money to spend. Or perhaps explains why the Kiddy gaffer Russ Penn is still in a job.
Strange to think that the New Year return match over the border won't even represent the halfway point of our season. Our 23rd game of 46 will be Scarborough a week later – weather permitting. Hereford will be turning out every 5 days or so from then on until the end of April.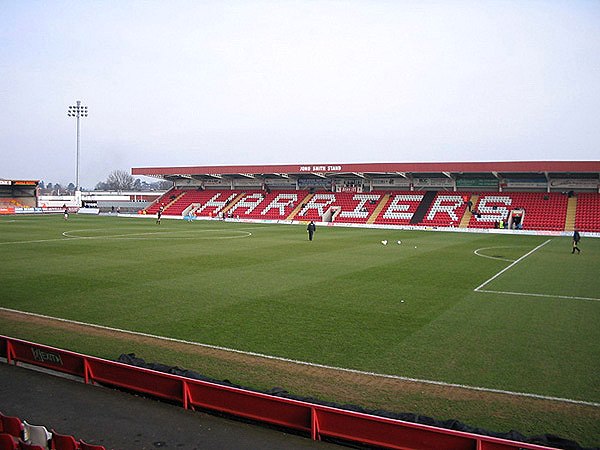 Tickets are already on sale for the away match.  Terrace is £17 adults, £13 concessions with seating £2 more all round.  Buy on the day and there is a £3 surcharge.  No need to rush to Aggborough as the food is bog standard these days.
Park up, grab a real ale in the pubs near the station and then take a relaxed stroll to the ground.
See you there?