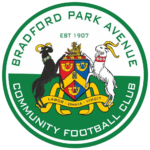 Bradford Council look set to offer a 35-year lease on the Horsfall Stadium site to the Motorama National League North club.
Concerns had been growing that Bradford would move from the current site, and ground share with the Bradford Bulls at Odsall.
The Council have issued a public notice enabling people to view the proposals and comment on them before the public asset is transferred.
Should the lease be granted the council insist public access to the facilities must continue thus ensuring other sports and athletics continue at the stadium.
The club's main benefactor, Gareth Roberts, maintains the lease will provide the club with more control over the stadium's future, and potential investment.
Last year the club was granted permission to build classrooms at the site as part of a football academy that would offer BTEC sports diplomas. The plans also included a new club shop, new perimeter security fencing and a new spectator barriers.