Less than five years ago, Kettering played a part in our last Southern League home game. A full house for Rob Purdie's farewell, a 4-1 victory and one ginormous Championship shield. Few Hereford FC games will ever be that satisfying. Both clubs that afternoon had good reason to feel excited about their futures. Sadly, that's not mapped out for either of us.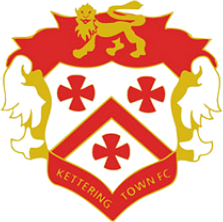 For our visitors, money's too tight to mention. Kettering get by with "just enough" pretty well. Their leased ground has enough seats to reach minimum requirements following an urgent building project last season to avoid forced relegation
Now they get by with just enough players to fill a team sheet. There were 17, there are now 19 in the Town squad of which 5 are loanees. If squad members are absent, they can't fill the bench. Having just 3 or 4 subs was common in recent games. You do wonder why they have an Academy led by a certain Luke Graham if young players are not called up. On one occasion, apparently their 52-year-old manager played despite retiring 20 years ago. Sods law that the old 'un scored….
The Gaffer Lee Glover is approaching the halfway mark in his two-year deal. He too has to get by with the bare minimum. There's apparently no assistant manager with only Hogg, a 25- year-old goalkeeper coach, for support. According to the website, Hogg is studying for his UEFA B licence for outfield players. Hogg also sits on the bench despite having retired as a goalkeeper. A bit of ammunition for Hereford supporters who complain on social media about the volume of our previous managers' backroom staff. "All you need at this level is two people." That despite having no real knowledge of what each staffer brings to the party.
Less than 650 fans turn up on average for home games and they have no new incentive to keep attending. Their team has scored once in 440 minutes. Last season, the Poppies missed the play-offs on the last day. The manager walked out and their 3 best players also departed, two of them bizarrely to not-exactly-sexy Peterborough Sports. This year with such a small number of signed on players, survival is the limit of their ambitions. The Poppies 2021 accounts show a deficit of £450,000 which isn't encouraging for a club understandably wanting to return home. The Secretary of State has approved Kettering's plan to buy land in their home town for a new stadium so their funds will be needed for that capital project.
All rather annoying and puzzling for their rivals that Kettering results have improved recently. With an unimpressive scoring record (their top scorer has 5), they rely on not conceding. Three of their last 4 home games finished 0-0. As our then manager observed in November 2022, they are very hard to defeat at home. Sadly, that night, Hereford never looked like winning. It's their home form which has given them a fighting chance to stay in our league. Here, they've beaten Kings Lynn and Brackley while scrapping a 0-0 with Fylde.
Probably the best-known name among the Poppies ranks is their 52-year-old manager Lee Glover. He played 76 games for Brian Clough's Nottingham Forest, including the 1991 FA Cup Final at Wembley v Spurs. Glover completely revamped the squad over the summer, bringing in young unknown players with something to prove. The squad average age is just under 24.
Couple of names you might recognise in their ranks. Firstly, the big striker Lewthwaite, who scored in Kettering's 2-0 victory over the Bulls in November, hasn't scored since. Typical of Hereford's ill-luck. Then there is George Forsyth, ex-Hereford, who played against us for Bromsgrove in the FA Cup, is now a Poppy. He originally joined on loan and made such an impression that he is now on contract to season's end. Their ever-present central defender Brad Gascoigne might sound vaguely familiar to some. That's because he was at Edgar Street during the season we don't talk about. He's had 14 moves since then. Not even Jaanai Gordon can match that.
The Poppies don't travel well with one of the worst away records in the division. Only two away victories and five draws with 31 goals conceded. They've never beaten Hereford FC already at the Street. We've beaten them 3 times in some style and drawn once and this is usually a game with goals in it. No Championship shield on offer but we'll settle for 3 points instead.
Be there if you can. Support your club.
Simon Wright