Hereford performed well in a 2-2 draw with high-flying York City at Edgar Street on Tuesday night, but must now back this up with another impressive showing at the Tameside Stadium against Curzon Ashton at the weekend.
The Bulls remain four points outside the play-off positions and will no doubt be looking to close that gap on Saturday against a club in the bottom three of the division. Simon Wright looks ahead to the trip to Manchester.
Curzon Ashton
Curzon were founded in 1963, when two amateur clubs in the Manchester League merged. By the end of the 1970's, they'd joined a Step 7 League. As recently as 2014, Curzon were having palpitations about just playing in Step 4. One double promotion later and the Tameside club are proud members of National League North.
During the close season, Curzon management decided to put together a new squad of young players. That was the official version. Part of me thinks the decision was made for them with most of their senior players leaving. When your 32-year-old Captain leaves after seven years and 300 games to join Ashton, freshly relegated into the Northern Premier League, I do wonder which scenario is more accurate.
Those half-dozen players provided the backbone, direction and kept a very small club in Step Two over several seasons. In addition, the Tameside club have lost four of their five local matches due to promotion or relegation so I do wonder whether finance was behind the change.
Average crowds are just over 400 this season though the York contingent have just boost that. Poor form, poor weather and increased admission costs will only shrink this number further. Tough to keep going in those circumstances. When Hereford visited last August, I'm pretty sure that travelling support made up about a third of the 416 attendance.
The problem for the Nash is the sheer volume of football clubs nearby. There are 10 Non-League clubs within 12 miles, mainly in Step 2 or 3, not to mention the Premier League Champions and 5 other professional clubs within 10 miles. Even the European Champions are only an hour away by car (though admittedly 3 hours to get back).
The revamped Curzon squad are definitely youthful with only 3 members aged over 25 and very new. Only three men remain who've played for the Nash for much more than a year, defender Daniel Shaw keeper Cameron Mason and one other. Even with hindsight, such a massive change of personnel felt like a gamble. The third long-termer Mohamud Ali has an interesting back story.
The defender is a driving instructor in Manchester but more interesting is that although being born in the Netherlands, he is a current full international for Somali. And so is his brother Ahmed, also working in Manchester.
Somali won a World Cup Qualifying match in September 2019, their first win in the competition for 35 years with the Curzon centre half being named man of the match. Being called up for inverted commas his country was the first time he'd ever visited Africa. somalia-rocky-road-world-cup-dream Not speaking Somali was rather a big barrier, so was the culture shock but his hair gel and deodorant made him very popular. They are rare luxuries in Somali. I wonder what stage Curzon are at with having an international in their ranks? Still a refreshing novelty or is it a nuisance?
Manager Mark Bradshaw was born in Ashton and participated in 400 games as a player, for mainly senior Non-League sides before moving into coaching. He's supported by an assistant, a coach and a sports analyst. Bradshaw is a long-term club servant, having coached various young Curzon sides for 12 years.
Curzon's other traditional main strength is their Academy, who consistently produce first team quality players for their own club and. sadly for their neighbours too. Last season, their U18's won 4 competitions. That is a remarkable achievable, considering the strength of football in Greater Manchester. Curzon have always given younger players an early chance.
Isaac Sinclair and Luke Merrill, both 18-year-old midfielders promoted from their Academy this summer, are semi-regulars. Merrill has scored 3 times in 7 appearances. Among some recent arrivals is the youthful form of Divin Baningime, an 18-year-old striker, on loan from Wigan. His brother Ben plays for Everton. Curzon have a few better -known family members Midfielder Terry Davies's brother Tom is a first teamer for Everton while striker Callum Saunders is Dean Saunders' son.
This season, Curzon started strongly with 8 points from 12. They were top after the first round of games. But since then, they went 15 games in League, FA Cup and even the Manchester Premier Cup without a win. As we're painfully aware, this League is highly unpredictable. An injury-time winner against Telford at home in mid-November finally changed their luck. That was followed by their defeating leaders York City, who were previously unbeaten in the League. Funny old Division, only as we know ourselves, a losing run is far from funny.
The Nash were unlucky with injuries and suspensions. For instance, the goalkeeper and the whole of the back four who started their first League game, were all injured at once. To fill the gaps, there are new arrivals almost every week which doesn't help continuity. There were 2 debutants in the York game. The Nash squad is nearly as big as ours now. On the road, they did manage a 2-2 draw at Gloucester City recently though hardly anybody noticed with an attendance of 238. During their poor run, their old wound of a popular and successful manager being sacked has re-opened. We know that story! For the Nash, this was John Flanagan, sacked in November 2018 after 7 years effort in getting a small club promoted into the nose-bleed territory of Step 2 and keeping them there.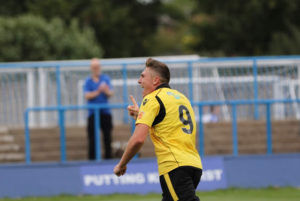 Step 2 squads are a bit like airports with people always in transit. We pinched a 1-0 away win at Curzon in one of the final games of the Beadle regime in August 2018. Since then, we've replaced the management twice and pretty much our whole squad too. Only Kieran Thomas and Jordan CullIinane-Liburd will be visiting Tameside for a second time. Harry White was the goalscorer. Doesn't that feel like a decade ago? In the return game at the Street, Curzon were in the middle of a blinding run of 8 straight victories and they recovered from a Greenslade goal to win 2-1.
For the benefit of first-time visitors, the Tameside Stadium was opened 13 years ago and has grown steadily since. Do look out for the statue on the roundabout. It's to celebrate 3 locally born footballers – Geoff Hurst, Jimmy Armfield and the great Simone Perrota. You do remember Simone of course? Well you would if you're Italian as Perrota has a very decent career with Juventus, Bari and Roma. Not to mention 47 full caps for Italy. Probably not too many Italian internationals have a Manchester accent.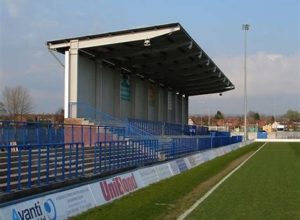 The Tameside is a perfectly decent ground which does feel very open.
The main stand is elevated over the pitch so looks bigger than its 520 capacity. Opposite is a big covered terrace with both ends having 7 open concrete steps. Curzon used to compete by being cheap. Not so much now. Adults are £14 with matures priced at £7. Under 16s are charged £3. That's a £2 increase in the adult price from 18-19. Car parking is plentiful and free.
The big club bar welcomes visitors which is fortunate as there aren't any alternatives within 15 minutes' walk. Curzon do boast a proper café with chairs and tables. Food range is basic but quantities are impressive. Excellent pies and peas, not to forget proper Northern chips and gravy too. Bon Appetit !
Getting There:
By Road: OL7 9HG (290 miles return- a comparative stroll) Leave M60 at J23 and take the A6140 towards Ashton. At traffic lights past the cinema, turn left onto Richmond Street. Over the railway bridge and mini-roundabout and first left into complex.
By Train: Do-able! Just over two hours to Manchester Piccadilly with a choice of trains. Pick up the Metrolink for a 30-minute tram ride (£3.80 return) to Ashton West Metrolink which is a brisk five-minute walk downhill to the stadium.
By Reg: Visit Hereford Awaydays Facebook page for latest
By Simon Wright