Hereford next face Boston United at Edgar Street on Saturday 31 August. The match can't come quickly enough after the Bulls demolition against Chester at the Deva Stadium in the Bank Holiday Horror Show. The experienced Russell Slade has agreed terms to become the new Hereford manager after it was clear managerial changes were absolutely essential if the new look Bulls squad are to get back on track this season. Many supporters were advocating wiping "the slate clean" with the appointment of an experienced manager – maybe alongside a player/coach – and it looks as though that proposal may come to fruition.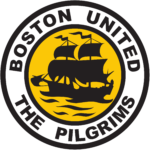 Simon Wright looks ahead to Hereford vs Boston United:
Welcome to Boston Builders David and Neil and their portly, "murderous" following.
I'd better clarify that a little. David Newton and Neil Kempster are Chair and Vice Chair at the Lincolnshire club, where they've been in residence for 12 years. The rest of the week, they are the main men behind Chestnut Homes who, amongst other projects, are building a new football ground for their club. No doubt they will be hopelessly drawn towards the Edgar Street restoration work for our social facilities. Much sucking of teeth and "not sure about that grey fascia board… Tell you what mate, I can do you a deal.."   With the football club owning Chestnut Homes £1.5 million, Pilgrims supporters are completely dependent on their local builders maintaining their passion.
The town of Boston has more than a few social problems. The Daily Mail, who always know such things, have the town pinned as the overweight capital of the UK. 34% of the population is deemed to be obese. (I wonder how many of our supporters are muttering "shocking" while holding in their stomachs?) Likewise, the good ol' Daily Mail claims the same town is also the murder capital of the country, on a percentage basis.   Allegedly, your honour, Boston has the most cases of murder, attempted murder and conspiracy to commit murder per 100,000 people.
So if the good shoppers at the Old Market see an array of rotund people armed to the teeth on Saturday lunchtime, there's no need to worry. They're just the visiting support and are no threat unless they are behind you in a fast food queue.
Like our own club, United train in a different county, in this case hiring the excellent facilities at Doncaster Rovers. Logically, they will travel from Donny to away games. That suits management and the majority of the squad who are Yorkshire-based. However, manager Elliott is aware that supporters do like to have more contact and he will be setting up training sessions at the Jakemans Stadium which supporters can attend. Both management and players are expected to mingle with fans in their clubhouse after games, regardless of results. 'It's important to show your face to the fans and show that you're there through thick and thin. "said the Gaffer. An observation other clubs could learn from.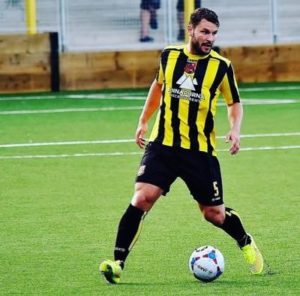 The Pilgrims club secretary was just as busy as our Martin Watson this summer. There are 12 newcomers into a squad of 20, including loanees Simon Ainge (Darlo) and Jake Wright (York). Most arrivals were from Yorkshire clubs though, like us, United grabbed 2 players from the mass "can't take hoofball any more" exodus at Alfreton.
Another newbie George Green is now with his 14th club. Back in 2011, Bradford City sold him to Everton for £300,000 plus numerous add-ons. Green bravely admits the move was too much too soon for an 18-year-old and he became dependent on drugs and alcohol. After a very long and rocky road, he's been clean for a year now thanks to the PFA and Gary Neville at Salford, one of his previous clubs. Neville speaks to him every day. see more   Green has a reputation for being "excitable" and sharing lots of opinions with referees with consequential bookings and sendings off. United already have a club moaner in Ben Middleton, with two dismissals last season so don't be surprised to see the referee being on the receiving end in stereo.
Boston now have a crook in goal. Peter Crook to be precise. Cue lots of wisecracks from our media team. "That's an honest reaction from Crook…" , "It's a steal by Crook" or if injured "Is Crook crocked…" Maybe Radio Hereford could run a competition on "best pun on the goalkeepers name." Whole minutes of fun guaranteed. In fairness to their new arrival, he's widely acclaimed as Boston's stand out performer in their early games.
United normally play a 4-3-3 formation in their first seven games. They have won twice, both at home against Leamington (1-0) and a 5-0 Bank Holiday demolition job on Altrincham. Otherwise they've drawn three and lost just once, 3-0 at Gloucester in front of 330, on Bank Holiday Saturday.
Manager Craig Elliott at 39 is barely older than some of his players. He had a modest playing career with Doncaster and Harrogate. He was head hunted for Boston in late 2017 after notable success managing at Shaw Lane with 3 promotions in 4 years. Since then, he's constantly reshuffled his players. There are only two left who were at York Road before he was – midfielder Nicky Walker, who is in his third stint at the club after having played for the likes of Clipstone, Buxton, Shaw Lane and Gainsborough Trinity, and Albanian Andi Thanoj. Sounds exotic but Andi's rest of week is spent in a sales job in Leicester.
We don't want to dwell too much on the results last season. A 3-1 defeat in Lincolnshire was followed by a sorry surrender at the Street on the last day of 18-19. Best forgotten. In League game terms, that's just 8 matches ago yet it's more than a feeling that so much has changed since.
Hereford under Slade – Cum On Feel the Noize?
By Simon Wright